Interview with
Kavitha Balakrishnan
Kavitha Balakrishnan is a noted painter and poet and art critic who has been teaching art history for the last two decades which defines the new century. Recently her out of the box book, on the reading culture of Malayalee's and the visual culture it gendered through the last century to the present has been a roaring success .She talks about her book, paintings and poetry in a freewheeling interview with P.S Joseph .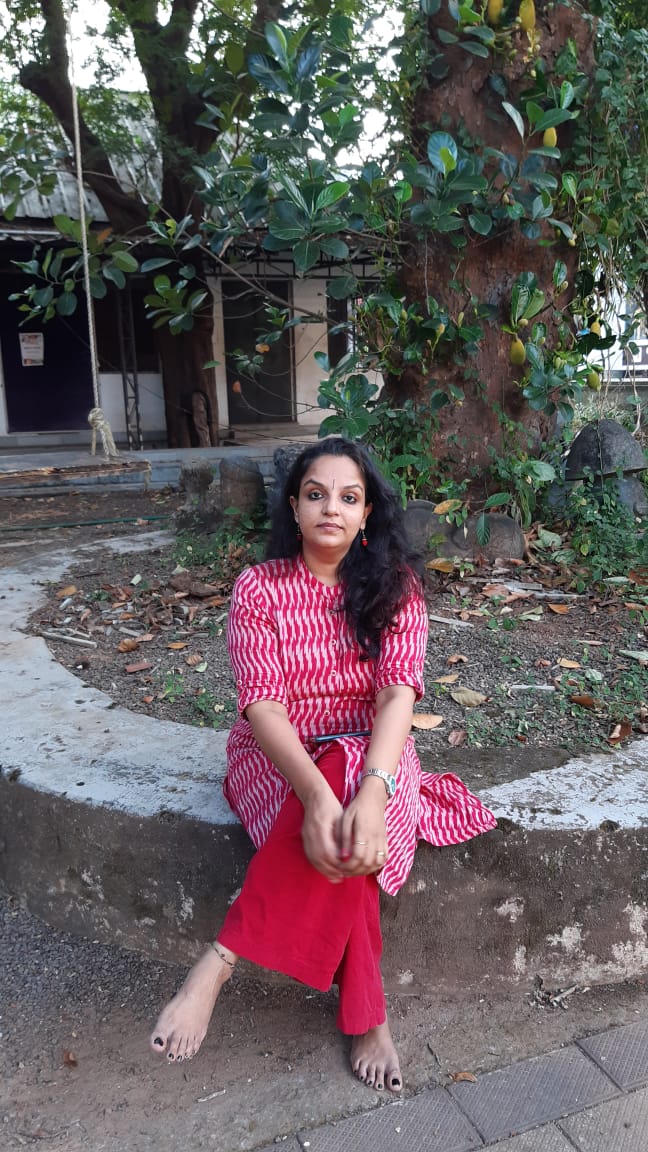 Kavitha Balakrishnan
Q :You have been writing a lot for years as a poet , art -critic, and painter .You have done some serious works on a few of Indian artists who emerged in 'contemporary Indian art' canon during globalization. Also you have written on illustrations for long .Then there are two collections of poetry. Though you are part of the writer's world for long ,this is for the time your book gets such a wide attention. Vayana manushyante kalacharithram - the title itself is a rare coinage and the book is published by Kerala Sahitya Academy, an honor itself . What's your response to the newfound love for your work?
Kavitha: First, I am glad to have this conversation with you. This project is actually my long-found love that could express itself only now, in a unified form. Let me translate the name of this book 'Vayanamanushyante Kalacharithram' as 'Art History of the Reader-viewer in 20th century India. It rejects our popular assumption that the discourse of art in print-modernity is either dependent on a dominant literary culture like that is in Kerala or is aloof from a common history of modern Indian art. I am trying to project a strong dimension of the artistic culture of print-modernity, in terms of its literary visuality. Kerala is the case study of this book. The English version has long been getting edited, and I hope to finish it soon. In the context of Kerala, 'literary visuality' has throughout related to many aspects of our cultural life, from its making of a picturesque public of readers and viewers, to the figuring of its fictions through all kinds of pictures – the vignettes, photographs, cartoons, illustrations, photo features and many journalistic categories where verbal and visual texts are employed together. Our literary visuality also created its own emotional, aesthetic, performative and political bodies that could be looked at from a distance. Looking at others from a distance is at the crux of all our modern representational politics in art, advertisements, literary craft, and even political practices in 20th century. A male dominated middle class was largely running this media show. Art, just like women and all kinds of subaltern identities, has been a marginalized discourse in this scenario. But this book is looking more at how an 'artists miscellany' was surviving here, without any claims for autonomy, but undeniably present as forensic evidence of a political public. In this way, now this book raises a history of Indian art from a possible, yet unclaimed, culture story of Kerala society. It is about the pride and prejudice of a Malayali looking public. It is the story of a people who prided in their cultural authority of literate-media-sensibility but eventually has lost it for a censorship regime that was growing in artful disguise within it. I am also discussing the politics of privileges that helped to create a canonical figure of artist Namboodiri out of a marginal discourse of art, like the literary-illustration. Editorial shifts also have their importance. And, you also have a crucial role in shifting the sensibility of literary illustration to more of a visual field in Malayalam 'India Today' in 90s. Since 2000s, a politically sensitive editorship started claiming the 'radical' art language into the folds of Malayalam literate-media sensibility.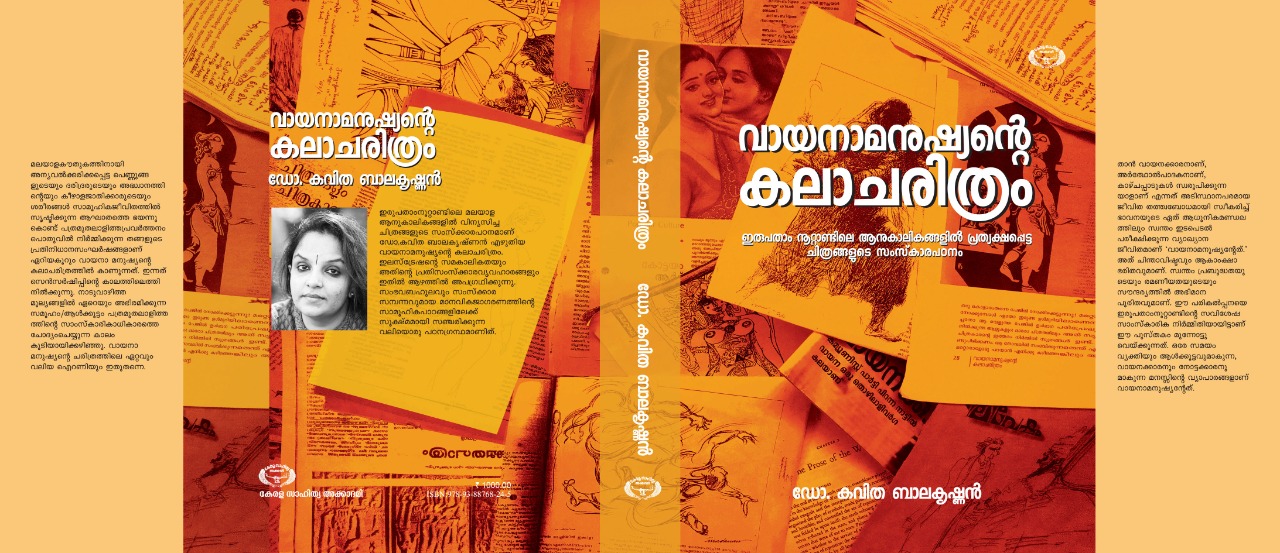 Book cover of the Art history of the Reader -Viewer (Vaaynaa Manushyante Kalacharitram)
So here is the story of our half-cooked modernity, fetishized consciousness of our own provenance. Today, the age of literacy is passed on to a new era that destroys its blessings and reveals its disguises. A new graphic authorship has emerged from the critical margins of this 'literary visuality' and it has its presence both as contemporary art and literary genre. Interestingly, the art works of many contemporary canonical artists laterally enter this domain of 'literary visuality'. They engage with its ingrained melodrama, sentiments, performativeness, photographic gesturing. I touch upon a few such specimens in this book.
This literary visuality is not simply a provincial story. It has several other localized expressions across 20th century Indian language cultures. So, this book is a specimen from a larger Indian context of the 20th century 'reader-viewer' (the interpretative being, the vayanamanushyan as I name him in Malayalam), his modern art history and cultural life.
So, as you rightly tried to put it, this is one part of a long story of my engagement with the question, what it is to live an artist's life in this world. For me, it is about living both in the verbal and non-verbal domains of language. I wanted to know why I am living in a polarized world of body and mind, visual and verbal, the personal and the communal. Right from the childhood when I started painting, my instincts were not confined to find a personal space alone for me. I always thought what my drawings are doing with others. I read at once I see. So, I liked to merge and find a living continuity. But it is not easy. The search still goes on. At the age of seventeen I took a decision to know how I am in a larger scheme of things, by studying Art History. That helped me, it seems.
Q: How was Vayana Manushyan conceived and when ? If I am right, you started it off as a research work. How has it happened? What are the things prompted you to research on the subject, the transformations that have taken place during the past twenty years in conceptualizing this work…
K: A long-time habit of looking at pictures was part of any 20th century literate middle class Indian family upbringing. My best memories were looking for hours at the illustrations by A Shivaraman (popularly known as A.S), especially his drawings for the Malayalam translation of Yayati and 'Bhujangayyante Dashavatharangal. I also had the habit of making quick on-the-spot sketches from my childhood surroundings like the Irinjalakuda market, bus stand, cycle repairer shops, paddy fields, the metal casters of Nadavaramba, the temples and such things from anywhere I go. Those days I was attracted to two things as subject matters to make drawings. The human figures and the architectural features of the places I see. Slowly I read that this was the influence of the drawings I see as 'literary illustrations' in magazines. But when I went to M S University Baroda, I never found the artists of those illustrations considered as modern artists. They were different set of people. Some were more interesting, some not. The art of literary illustration itself appeared quite conventional and parochial subject matter even to take up for a study. But I started realizing the intricacies of my own artistic taste. So, I did my M A(fine) Art History and Aesthetics course dissertation on this topic at M S University Baroda.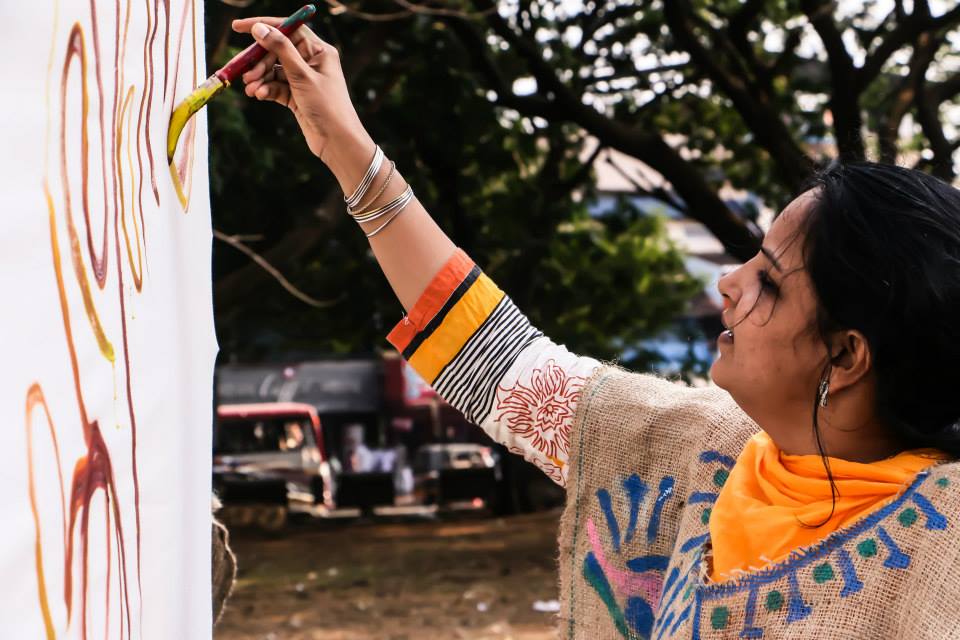 Kavitha- part of artist protest claiming public spaces
Q: What were the initial findings you made ? The collaborators of the project…
K: Once started, curiosity took me further. Registered for PhD at Mahatma Gandhi University in 1999, I continued searching for old magazine collections, documented using photocopiers and realized that it was an endless task if one is guided by one's visual curiosities alone. And my research inevitably crossed the initial categorical taste for literary illustrations because it was not simply 'literatured' activity as it was popularly understood to be. A huge field of visual materials was revealed as I went with an archival interest. Even when the PhD was awarded, I could not settle with the subject. This book is not my PhD work. It is fully restructured.
Q: What were the initial findings you made? I think that was a pioneering effort to academically study the genre of illustrations in Malayalam and it has since then triggered many new researcher's interest into illustrations as a field of study, right?
K: My thesis submitted in 2006 proved that the literature-oriented illustrations in Malayalam periodicals have created a 'literate-media space' for art in 20th century Kerala. Many of the later studies retain the conventional literary reading of illustrations as if illustrations are only the interpretation of the given literature in another language, that of visuals. I reject this model of understanding this visual culture. I explain the reasons in this book which is again a completely restructured work.
Q: Eventually who were the collaborators of the project?
K: During the archival efforts I realized that me too am 'a reader-viewer' and the critic of it, as a woman and as an artist. This contradiction was also growing within me. That virtually turned into this cultural (his)tory of Malayali looking public. As you can guess, this word Vayana Manushyan occurred to me only at that time. I attempted to name an identity of 20th century reader who was at once a looker, also an incessant interpreter within a particular culture industry. I started expanding the subject into an international illustration research collective (JILL) based at UK. Also did an archival exhibition of all these materials as part of the first Kochi Biennale- 2012. In the last few years, lots of image controversies, censorship events have generated the ghosts of our much-prided cultural imaginations of egalitarian politics, progress, renaissance etc. They are gushing out one after another into the fag end of the glorious print media and its cultural power. It is time we need to make a reality check of our cultural pride and prejudices. We need to create the perspective of a marginal third world experience of Art History. Looking from there I hope, will help us doing this. So, from an integrated perspective of visual culture studies, I started writing the whole thing afresh in 2017 and this book is the result of this.
Q:How do you consider the amount of work you put in. Any precedents in other languages ?
K: We do have a lack of materials to talk of a pan Indian history of Literary illustrations. Even in Bengali I could not find a single exhaustive volume so far, perhaps because in Bengal there were many kinds of cultural mainstreams like Colonial Art forms, Tagore's Art Education, Bengal School's modern Art scenario, Satyajit Ray legacy of Film etc. Periodical print-pictures were not really a major cultural force compared to these. So Partha Mittar's chapter 'power of the printed Image' within the larger history of 'art and nationalism in colonial India' gives a good picture, one may feel. Yet specialist studies may raise new perspectives. I am connected with a few such ongoing works. In all other Indian states, illustration was largely part of the general commercial industries. Kerala will be an exceptional case where we can find curious localization of cultural privileges in this single genre. And that is a curious case of 'Modern Reader-viewer' - whom I called Vayana Manushyan in Malayalam. One cant imagine any homogeneous kind of concept like 'History of Indian Illustration'. So, I focused on the other end of it , the artistic audience of illustration. Perhaps by more rigorously conceptualizing this 'reader-viewer-looker subject' in various modern social forms in Indian linguistic communities, one might be able to locate still better the 'Malayali context'. Every language-community has produced this identity. That will be an inclusive concept. Anybody might be able to speak about one's cultural case within the ambit of a 'modern reader-viewer-looker' of culture, commerce, politics in that context.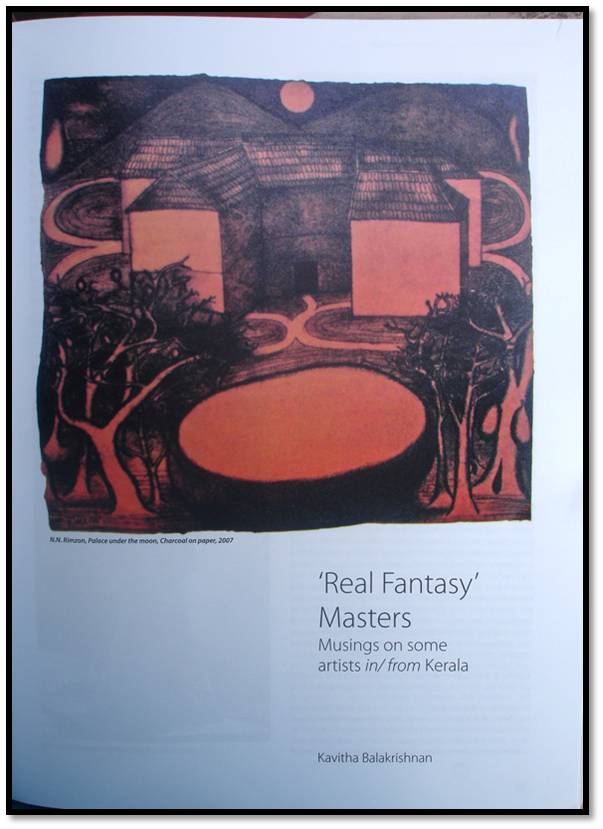 Art Writing in English
Q:What are the things you found during the study? Trends, innovations, ideas change of colors ,narration.
K: Kerala has a strong graphic picturing tradition that worked critically and differently from the popular realism of academic paintings and photographic journalism. But that was against all odds. M R Nair's caricatures and cartoons created such a short-lived span of comic pictures questioning the making of an ideal and picturesque public. But a variant of academic figure drawing and sketching by the Madras school artists like M V Devan, A Shivaraman and Namboodiri gained a stronghold within the privileges of literary journalism and the genre of illustration. But being 'artistic' was a conscious strategy that A.S and Namboodiri established in their personal variants while many illustrators who did not employ such a strategy failed to gain any privilege. Those who accepted that the reality of the print picture was that it was an 'applied art' or part of page design, failed to gain cultural privilege. Namboodiri employed all his privileges towards 'an aesthetic attitude' of an artist. That was a generic modern experience with which Vayana Manushyan was satisfied. High modernism and a few of the parallel movements of little magazines criticized the way pictures appear with the text in mainstream magazines. But they failed to make an influential alternate aesthetics for Vayana Manushyan. Much before the underground comics were established in Euro-American contexts, you find the graphic language experiment by G Aravindan here in 1961. Yet it was more taken as the events and evolution of characters like Ramu, Guruji etc. than as a groundbreaking pictorial communication. With the offset printing possible, 1990s brought in a revolution in colour printing. Malayalam India Today tried to largely reflect the domain of 'mainstream artists', especially the south Indian scenario in a different way.
Lots of the 'kept away' modern art languages started getting employed in narrations sensitive to colour and spacing. Pictorial communication within our cultural life has been hesitant and resistant towards the modern art sensibilities. This feeling has throughout been expressed by a strong taste for representational realism. Journalistic formations also did not like to break the metaphoric merging of fact and fiction through their 'authority of the real'. Graphic languages were unpopular as illustrations. They could stand as cartoons. But a strong distaste for graphic authorship is visible in our culture. That is when an artist employs both the story and its visual, and yet not easy to categorize as a cartoon.
Q:Have you deliberately left out certain magazines and illustrators
K: My methodology has throughout been inclusive. But my intention was not to make a comprehensive history of all artists who have worked in Malayalam magazines so far. My aim has been to find a perspective to look at anyone who worked in an 'art' context in Malayalam print picture culture. So, I have discussed some specimens when it was difficult to discuss all. So, I am curious if someone who has read my book, is coming up with an instance that demands a fresh perspective to look at.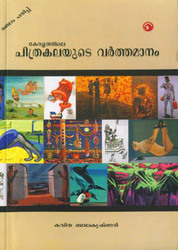 Book On Art in Kerala
Q How do you evaluate the painter as an artist
K: Painter is one among the many artistic identities possible today. The world history of art has evolved so much that an artist is the one who creates or designs or pushes one context that is put in perspective. Today the painter is a thinker as much as any other thinker who employs any other crafts.
Q: How do you relate your poetic work and life with the project?
K: . I researched as an artist. Fundamental questions that pushed me towards this project relate to my life as an artist. And this work exacted a lot of labor that I enjoyed too. Thinking of one's own much familiar cultural context of life is quite poetic, though the way it is written now is largely academic. I have written it in poetic ways too. This research itself made me write some poems. Perhaps my visual thinking also evolved through these years. I like to literally draw the poem in its own letters, thus started a series of poetry-drawings called Matchbox Poems. That series went places, showing up in exhibitions and poetry carnivals. That made me touch at the verge of calligraphy. That inspires me now, as an artist. Generally, I like to draw and paint as a researcher of sensory experience.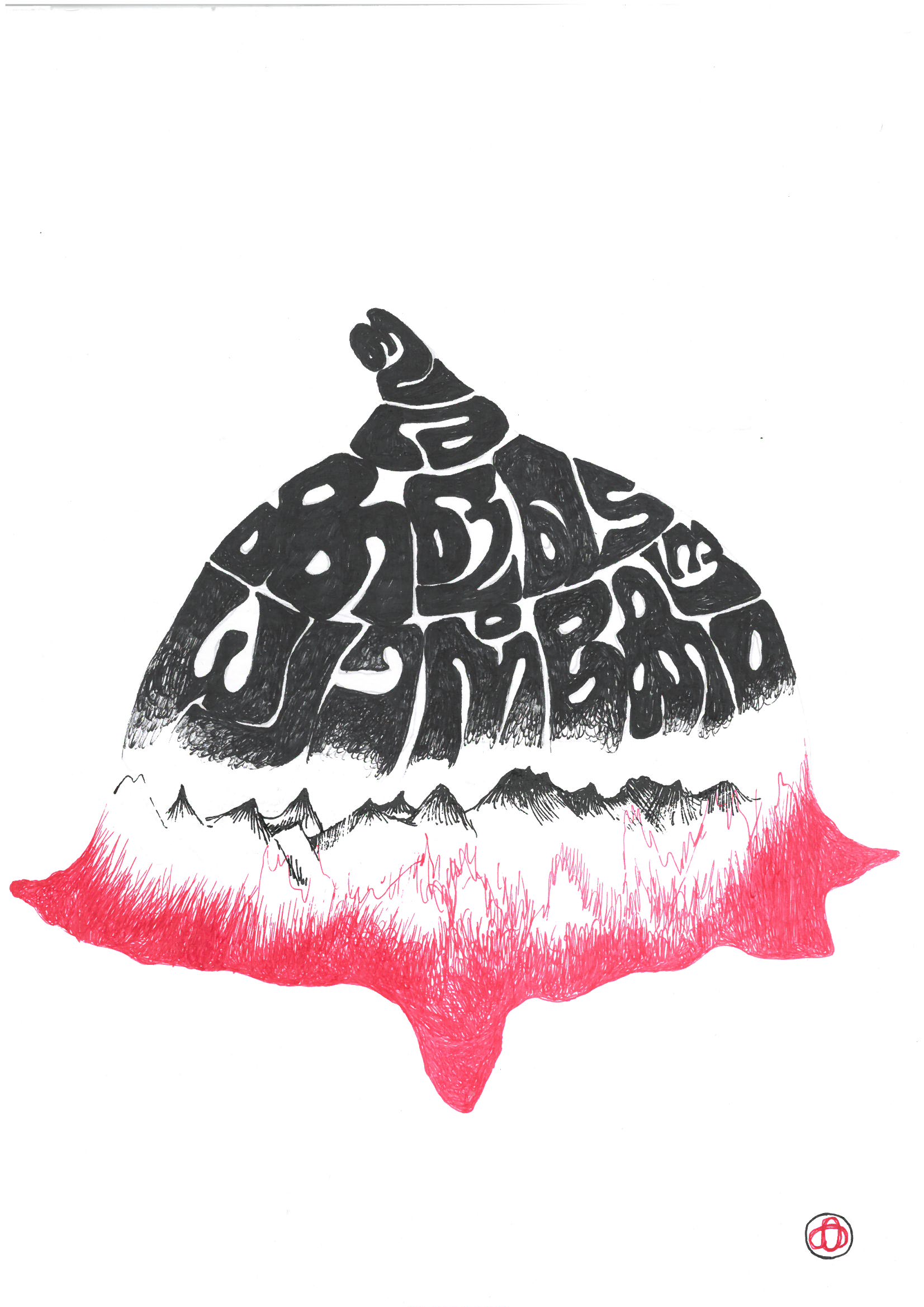 Match box poems
2:The Artistic Journey
Q: Kavitha, you did a pioneering work by telling on the Vayana Manushyan in Malayalam and now you are working on it in English. It is a culmination of your artistic impulses by birth and nurturing. You seem to have your eyes on the target from childhood. What are the memories which strike you vivid now
Kavitha: Childhood gave me a lot of opportunities to travel. I was a loner, an only child of a self-made couple. My schoolteacher parents did not do too much of parenting but gave me a life around books, nature, and people. I was witness to their year's long struggles to build a house. Their job was the only privilege they needed to live, a secular and middle-class upbringing. My father has his stint with a writer's life that was well noticed. As I grew up, all kinds of dialogues about art and life inspired both of us. His friends were mine. I belonged to the people andthe place I grew up. That was not a typical girl-life of that time.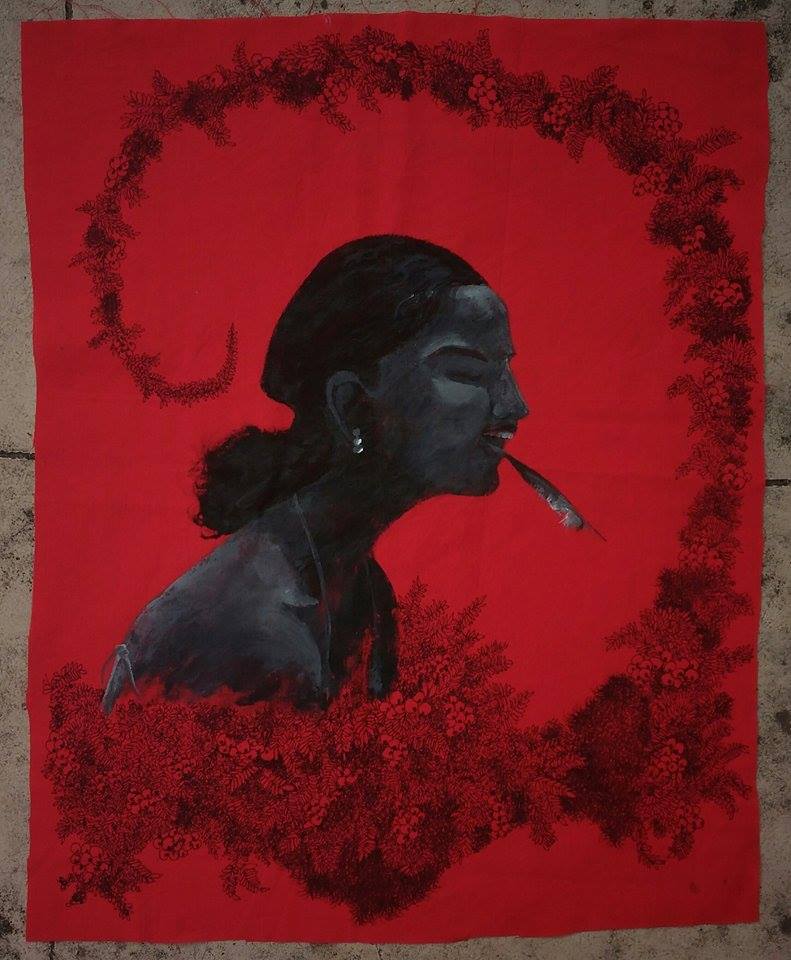 Spiritual Hanging
Q: Was it a natural evolution as an artist ?Your love for colours and rhythm?
Kavitha: Right from the upper primary school time, I found pleasure in drawing. I never liked copying. Liked to go around on my bicycle and paint things I saw. Wanted to get things captured as they move, rather than n their static state. Let it be trees, let it be humans. I wanted to press the colour from the tubes directly on to the paper and play with the paint to create some sensations of figures. Perhaps their productions of the images of some impressionist painters influenced me unknowingly. Suddenly all this turned impossible when I got a peculiar subject to paint, once. It was in 1989. I was trying to make a painting on 'Indo-sovietFestivals of Culture'. I did not see any 'culture' moving around in the trees, people, animals, and plants around me. I had to rely on photographs in the magazine called 'Soviet Land', 'Soviet Union' and 'Sputnik' to understand what 'culture' meant, especially the Soviet one. Soviet was an ideal republic for my generation, at that time. I heard that there is no inequality in that country. I was happy to connect their 'culture' with mine. But I realized that the word 'culture' generally meant dance forms, philosophical icons, festivals etc. In terms of these, I wanted to show the two countries. It turned into a collage of many things. That is how I learnt that 'collage' is a language of expressing anything to which one feels certain sense of indifference, yet feel great desire for! Thus, goes my story of inventing the artist within.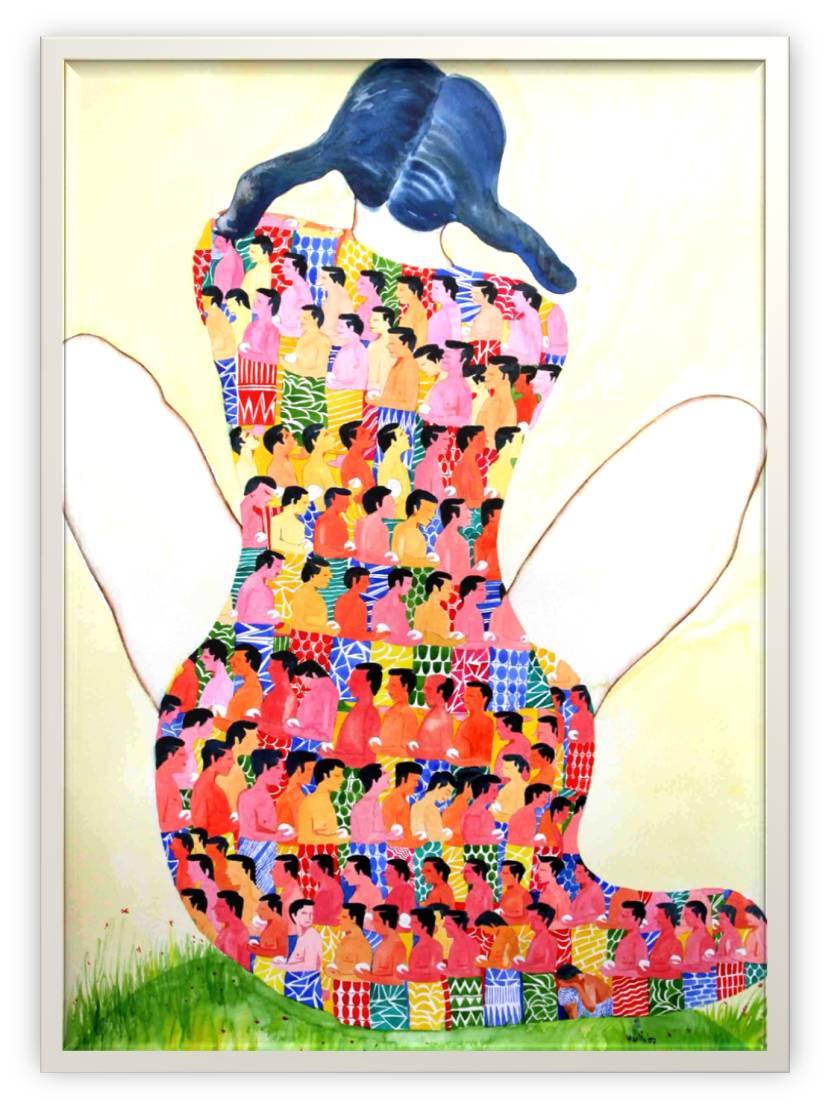 The Girl
Q: Heard you have visited the erstwhile Soviet Union at an young age for your artistic proficiency?
Kavitha: Yes. I got Soviet Land Nehru Award for that collage and I was the firstone to be selected for this award from Kerala. That gave me an opportunity to takepart in a 40 days long International Young Pioneers camp at Artek, Crimea, formerUSSR in 1989 at the age of thirteen.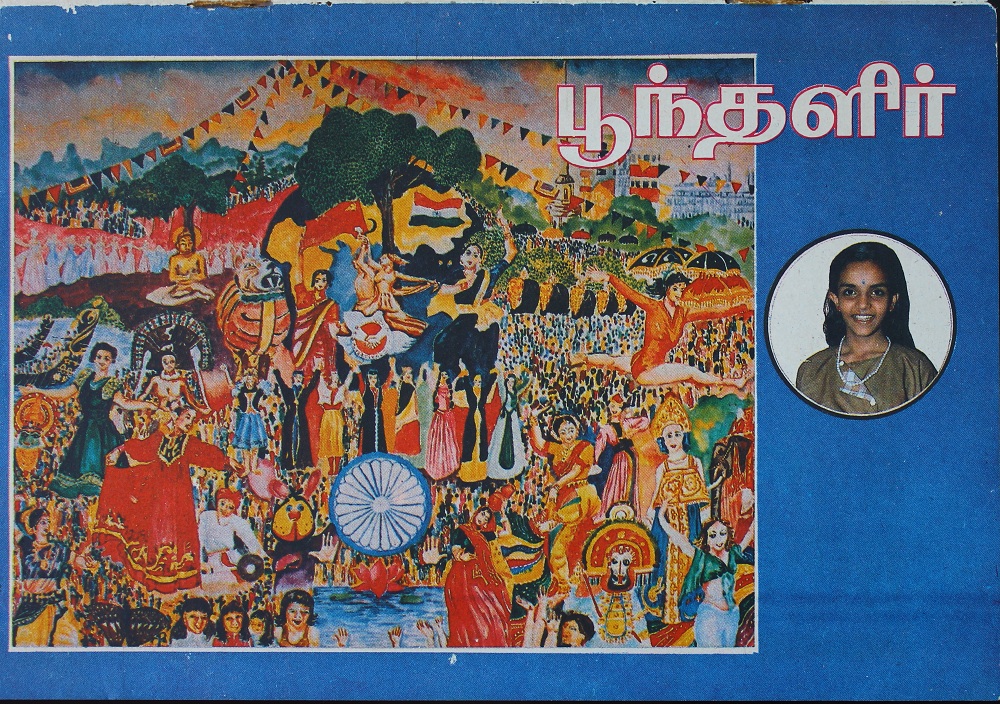 The Painting That won Soviet Land Award (1989)
Q: What were the experiences you carried back?
K: That was an opportunity for an uncouth Malayalam medium girl to realize thatlanguage does not mean the words used in certain systems. English or Malayalam has no special powers or powerlessness in every situation. Among children of various origins, the only viable language was that of body and love. I learnt to dance with boys there. I enjoyed sunbath. We shared our proverbs, epic stories, and such stuff, all by performing suitable gestures.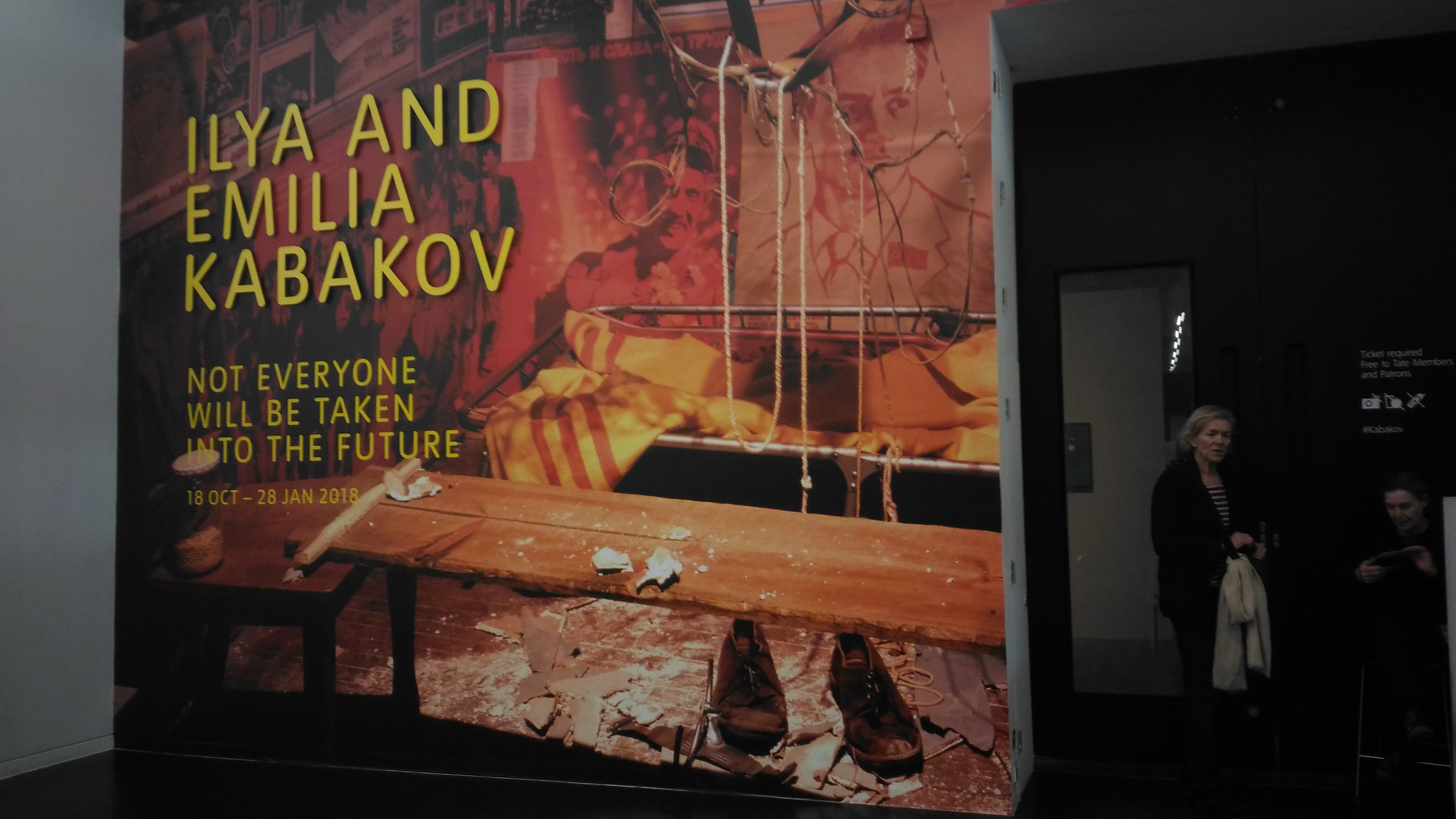 Q: Any lifelong friends? No forgettable episodes and characters?
Kavitha: We had in our groups, children who were orphans. I thought it was the power of a socialist system. It was, indeed. But it is perhaps difficult for humans to grow up fully in community housing systems. I realized it from a Russian artist'sretrospective exhibition I saw at Tate Modern Gallery, London, two years back.Mechanically employing socialism can perhaps leave the state crazy about its aims.It may dream going to the Moon while building a suffocating living on the earthfor its people, both at once. Watching Ilya Kabakov at Tate Modern, I was brimming with tears, remembering Kolya for no direct reason, the boy who had no father or mother but under the protection of the state. And USSR collapsed in1991. Now if any child wants to enjoy such an exposure, he or she must have a rich parent who can buy it.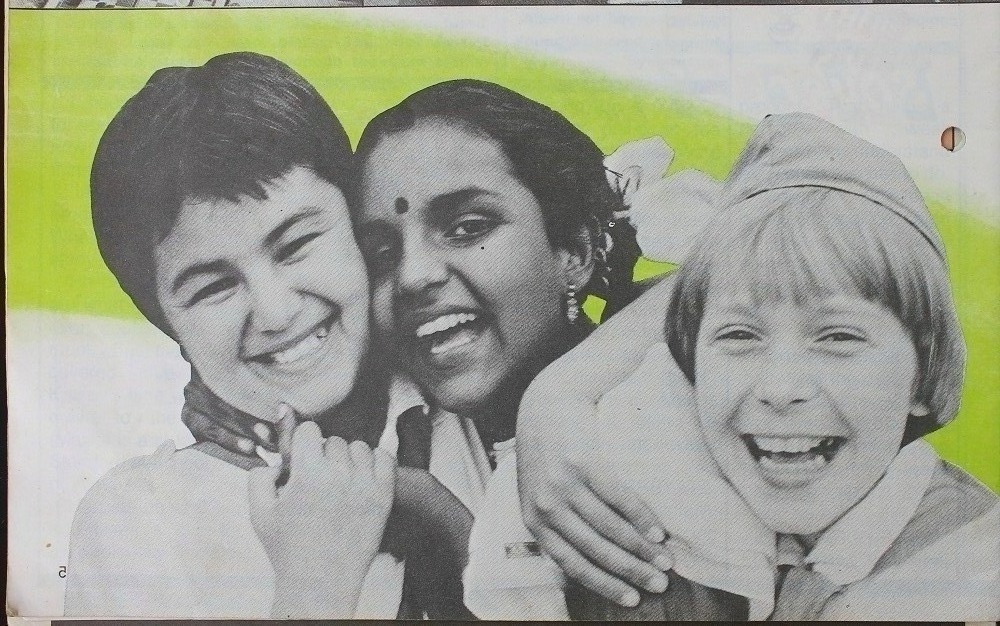 Arthek Days
Q: How has it influenced your latter life?
Kavitha: I turned quite candid afterwards about my aims in life. This comparatively huge exposure at a young age can put you in difficult situations. A professional pressure can build up. People might call you 'chithrakari' which you are not yet. Artist is a long life's matter. I was not ready to take it up as a 'profession', so to say.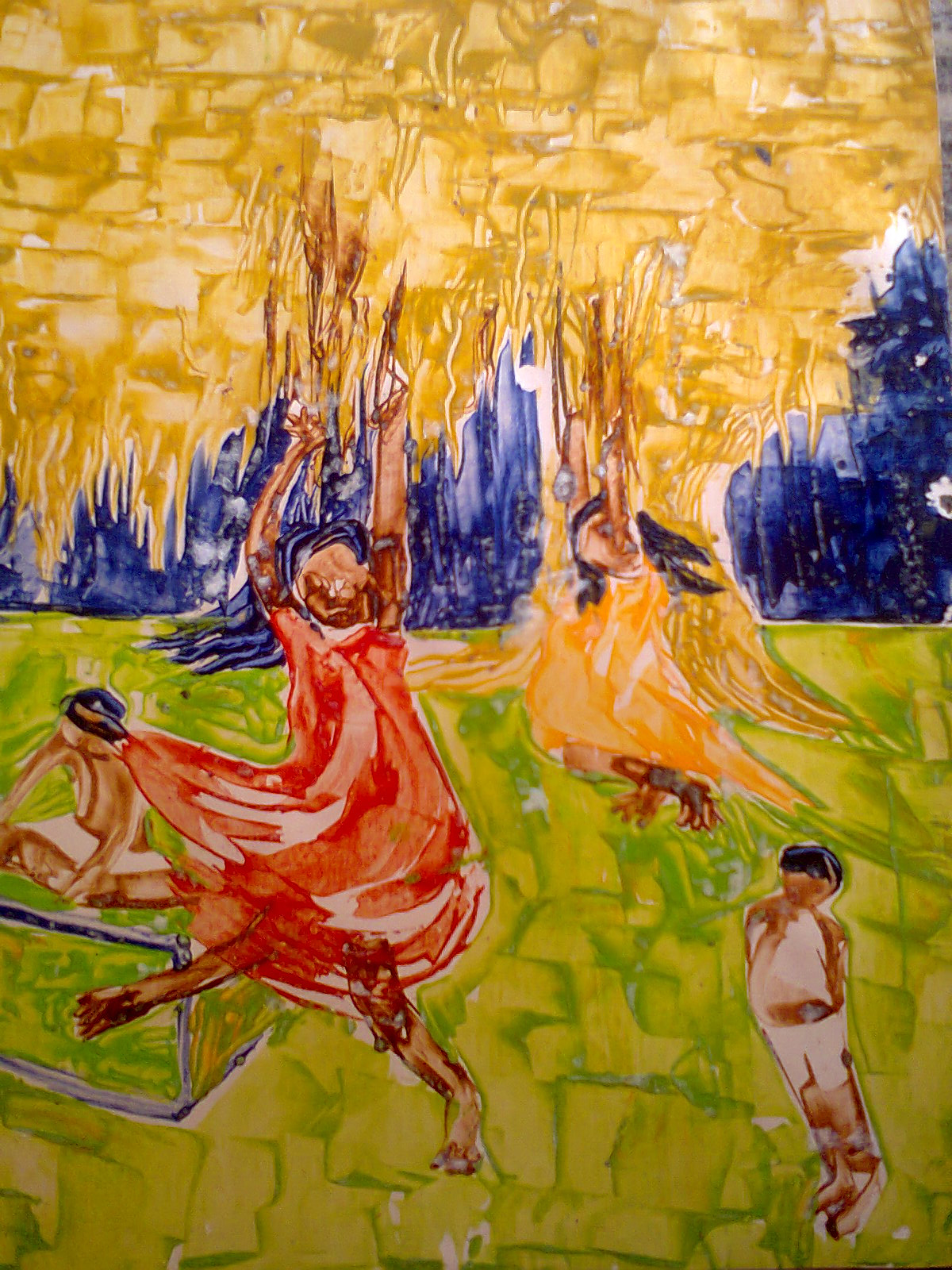 Colour sketches and diary
Q: You seem seriously dabbled in painting?
Kavitha: A freewheeling childhood was not easy to continue for long ! You can only create a myth of 'free spirit' and live within that bubble. I refused to do it. I used to paint well. But that was not my inner call. It was art history. I wanted to realize my context, if at all settling on to any discipline of art. By the time I was twenty, I seriously understood that I was an underdog in this world. Artists, women, and anybody who is not carried away by the glitters of this moneyed world are doomed to this sense. Over the years I slowly have found a visual language also. I wanted this slow pace. I had nothing to prove fast.
Fernhill Sketches
Q: What prompted you to choose Baroda?
Kavitha: In mid-nineties, the department of Art History in Baroda was the only academic place available, with a contemporary exposure. Ever since its visionary inception, scholars like Ratan Parimoo, artists like Gulam Muhammad Shaikh, Bhupen Khakkar and their next generation people were attracting artistic people from different parts of India. From the exposure of that academic space, I realized the importance of archiving as a tool to make things public and visible. Academics and art history taken together and employed creatively; it has certain politics that helpsart practices. Artists emerged into Indian art scene in 1990s from Baroda reflects the critical perspective and freedom of that place.
Q: Life in Baroda and the experiences you have undergone ?
Kavitha: That space totally challenged me. It gave me confidence to start my research and live the next twenty-two years I have lived so far. It gave a lot of friends and the feeling of an artist community to which I can belong.
Q: The artists you met and the experiences in the Ravi Varma city?
Kavitha: So nice to hear you address Baroda as the 'Ravi Varma city' ! And yes, Icould see many originals of Ravi Varma paintings at the Baroda Museum. I was thinking of the long distance that Ravi Varma and his brother travelled one and a half century back ! Perhaps more immense was his travel from a caste-ridden local life to an entrepreneurial artist-life. When I was studying there, the critical legacy of Radical painters and sculptors lingered through certain idea of 'Malayali students', the troublemakers ! I did not well belong to that ethos. Their class-conscious artistic politics had some relevance. But their ethos had something not democratic and male-chauvinist about. At the first sight, I was looked down uponas a 'middle class protected girl'. But I did not respond to any perceptual fights and peer pressures. My personal life was filled more with ordinary people, the cobbler,the STD boothwalah, various maids at the girls' hostel, even the squirrels there. Iused to walk for long distances away from the faculty. Always looked for emergency exits in any 'system' and I knew that humans cannot do away with some kind of systems. We can only alter them or make them livable. One must keep finding one's exits and entries. Lots of sketches I made. Every late night, I ended the day with a few scribbles and a sketch on a post card and I sent it to my achan. I was sure, he would be at the Nadavaramba post office the fourth day morning, at sharp 8.30. Poet Savitri Rajeevan was studying art criticism there, one-year senior to me. Artist Sosa Joseph was my roommate. I loved looking at Kabita Mukhopadhyay painting on small pieces of paper when she visited friends in different hostel rooms. Shivaji Panikkar was my teacher, a tough one in classes to deal with, and I enjoyed that.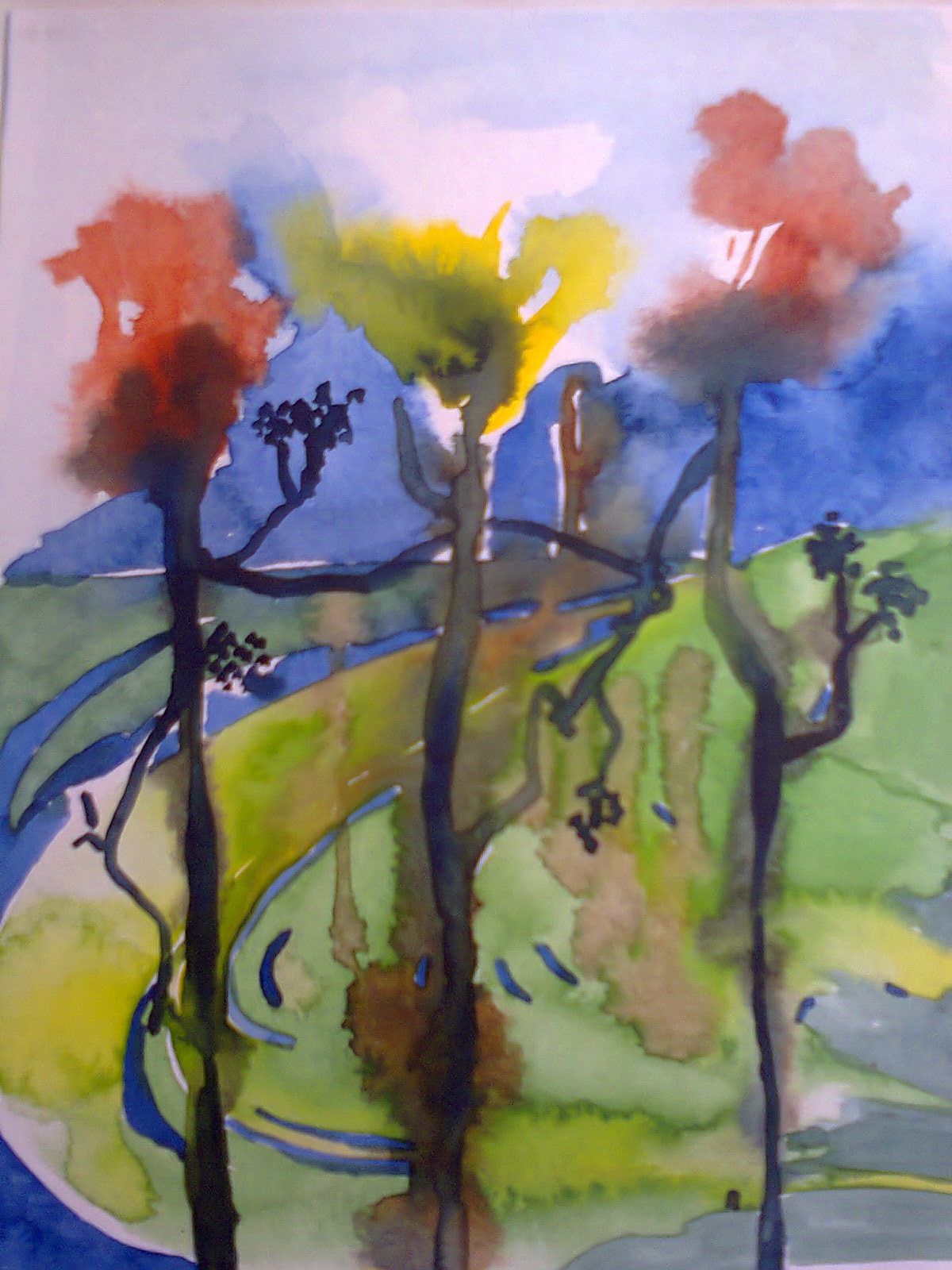 Fernhill Sketches -2
Q: "Baroda has a distinct dislike for the madras artists, but you seemed to be in love with both?
Kavitha: Those are critical differences. Baroda had more genuine and vivid scenario of art and academics. Madras artists had their survival anxieties ruling too much over their common interests. That applies to many generations of artists who happened to be in Kerala also. I feel that it is a high modernist fallacy to work in selective machineries of taste, one privileging over the other. Only by the existence of a lesser other, we could be something better and high arty! In Kerala I feel that we lack compassionate camaraderie and respect for artistic fellow beings. Only that can create a healthy critical environment. The Baroda scenario once had all this. A genuinely pluralist world is necessary for art to grow as a modern and inclusive social idea, anywhere for that matter!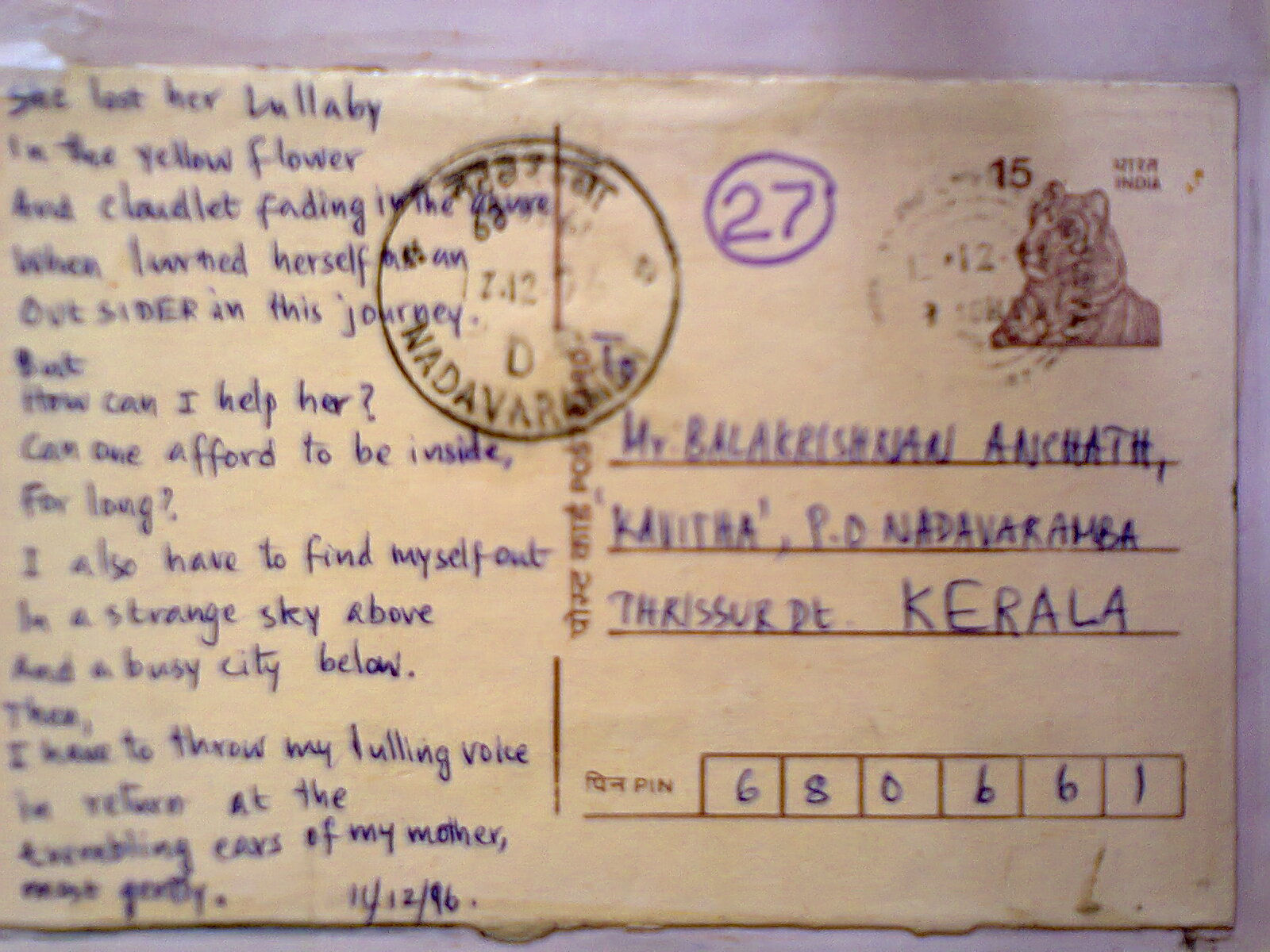 Q: You mentioned about your post cards to your dad for months ?What secrets did you filled it up with?
Kavitha: Don't you feel, a postcard was once such an open medium for our intimacies ! Those were my suggestive and poetic writings and drawings. Even our postman guessed about my life in his own ways. So were my parents. And I like this distance in all relationships so that we realize our love's intense labours. Guessing and feeling things from the gesture that is just scribbled, that is quite stimulating, right?
Q: Coming back to Kerala as a painter and as a young girl in search of new vistas how do you find yourself in?
Kavitha: I returned to Kerala to continue my illustration research and documentation. Meanwhile I married Rajesh based at Mumbai. As I told you, I am not fit for relations based on similarities. The mystified world of art and academics was so small part of this world! Only when you come out of it and stand on your bones you will realize that differences and disparities are the reality and that is beautiful. It reveals much about you. When I married, I lost the myth that I am solely an artist. When I joined Zee Interactive Learning Systems Ltd, in Mumbai I also lost the myth that I am an art historian. It was an e-commerce portal for which I developed content. 'Research' was also a marketable activity, where they do not expect you to criticize the system but alter it for more profit margins. When gave birth to Adityan, lost the myth that motherhood is natural. Actually, that is a learned skill of a human being to collaborate for a sustainable life. Because of this continuous demystification in every aspect of my life, I wrote poetry.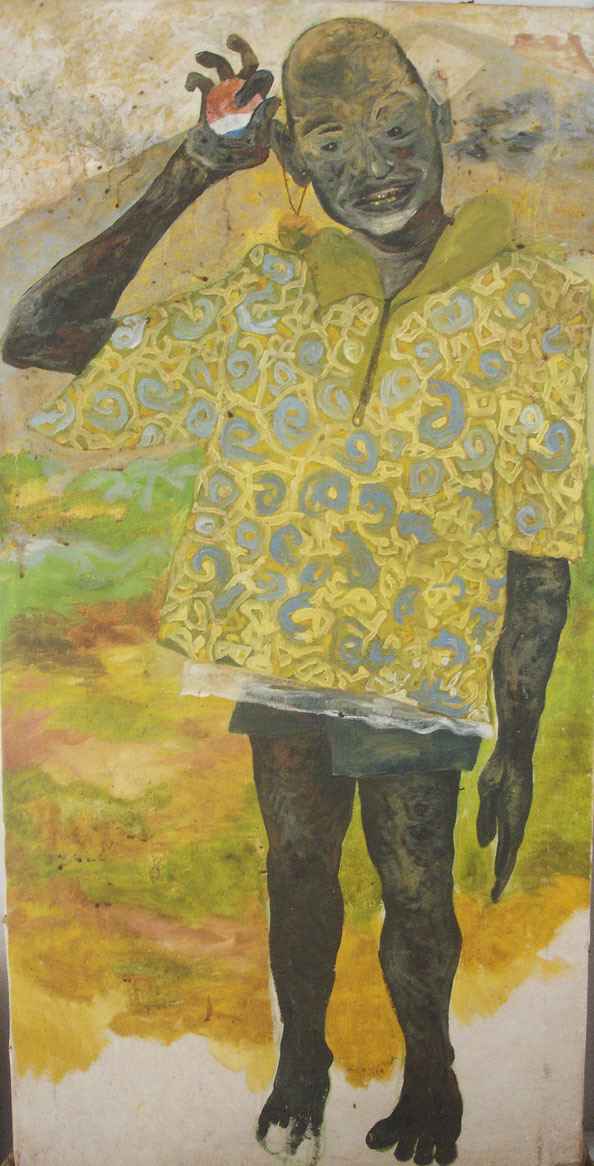 Yellow Boy
Q: Have you ever felt you made a wrong choice?
Kavitha: Everything was my own choice. I was consciously tearing my own pure /artistic ideas of freedom and was trying to engage in various walks of life. These are inevitable learning process, without which art is impossible.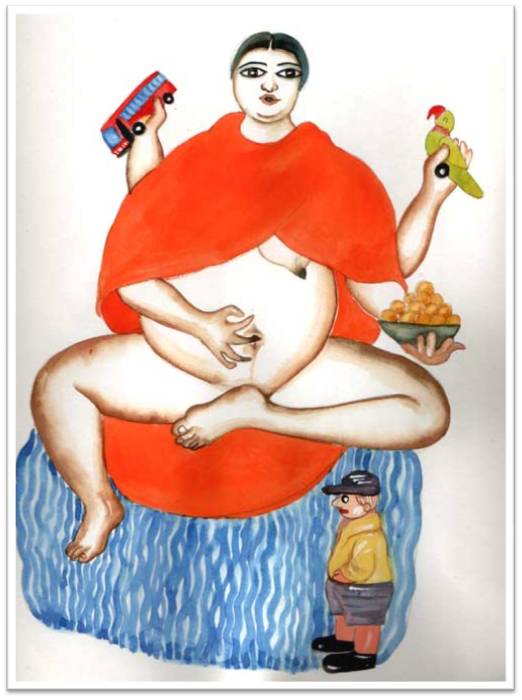 Q: You are good at English and Malayalam and prolific in writing. But what struck me more is your foray into poetry which is not traditional but different ,at times humorous looking into yourself and unconventional?
Kavitha: Perhaps you guessed it right. I was looking into myself as one among many things in this world. I was going out of my body, just like that departing stuff, on death. Poetry is an idea much beyond any word-language. Certain Dadaist is within me.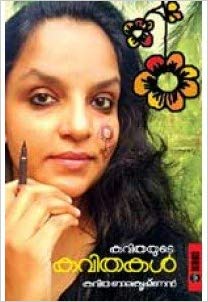 Kavithayute Kavithakal (Poetry collection)
Q: Wasn't it a bit difficult for a painter to dabble in poetry ?
Kavitha: No. both are the empires of sign systems, right? I think so. That is why now a days I arrive at an interesting activity, picturing my mother tongue, in my matchbox series.
Q: Have you considered ever poetry as an extension of your paintings?
Kavitha: Both are mutually co-existing. It is a rubbish that we have literature industry generating poetry and art industry generating paintings. Language is a confluence of verbal and non-verbal faculties of humans. Why do we create separate continents out of this, I really do not know.of verbal and non-verbal faculties of humans. Why do we create separate continents out of this, I really do not know.

3 Life as a painter
Q: Kavitha, though there are notable painters from Kerala none attained iconic status. Perhaps Namboothiri as you mention in your book, but what of others? Those who made it were working from outside Kerala. After Baroda how do you find yourself in such a world where chances of exhibition are limited and selling a painting is a dream?
Kavitha: Well, let me slightly rephrase this wonderful question. What exactly is the reason behind our post-independent art's rigid institutionalism? A fall out effect of that was the marginalization of the non-urban regions. India's diverse subaltern visual world is still invisible in major frameworks of 'modern' Indian Art. Kerala was a marginal region in the map of a 'national history' of Modern Indian Art for long time. It reflected categorically urban middle class ambitions and the alienated individualism. That was the times when it seemed that 20 th century Kerala has no art history at all. It was indifferent to its ambitious artists when they wanted to make a living out of art. Artists of Madras school or Cholamandal orientation, found themselves in such a world where chances of exhibition were limited at home but a further migration to Europe helped a few of them. Selling a painting was indeed 'the dream' of many. They found connections through individual circuits. There were informed people like Ibrahim Alkazi or Sara Abraham who often bought Indian modernist's works. But many of the Indian buyers themselves were amateurs doing it out of personal fancy. Many were not considered to form a significant register of 'art history' by constituting collections and museums by themselves. So, the artists whose works were bought by them, also were invisible in the larger academic and art historic circuits of Modern Indian Art. Shifting the regional status of Kerala is a phenomenon since 2000. I passed out from Baroda in 1998. I have elaborately discussed this 'shift' in a paper presented in a seminar at NGMA Bangalore and published in the online magazine 'Guftugu' ( https://guftugu.in/2018/04/13/shifting-status-of-a-region-perspectives-of-art-history-from-kerala-kavitha-balakrishnan/ ). In that paper I argue that a post- globalization world at the dawn of the twenty first century, gives a picture that renders the very idea of a 'national history of art' unstable. This is exactly when the 'Malayali Artist' with his double ends, with a strategic ambivalence and an absolutism of artist as 'a whole time worker, enters first as 'Bombay Boys' then as a 'Biennale team'. Artist in that globalized era was not somebody who was remembered for committing suicide but who won a space for himself by 'producing (art) work'. The art market driven by the late capitalist economy deployed smarter strategies for adaptation and was apparently more 'liberal' than the earlier rhetoric of national modern art. The art market had already picked up anew younger generation from the 'exotic' stuff and random locations like Kerala, no matter the cultural geography is mainstream or regionalized. This defied the logic of the center and the periphery that ustained the need for a 'regional modernism' for long. In the changed scenario of the global art world of the late 1990s, local was also global, overlooking the very category of the national. In this new kind of 'internationalist turn' the 'Malayali Artist' has been playing a very crucial role. It is a shift from the radical dissent of the eighties, towards aggressively co-opting the art market to individual art practices. So today we have many Malayali 'Artist icons' in a contemporary art world. Almost self-taught in art and fairly trained in Art History, I returned to Kerala in the beginning of this changing scenario. In a way, it was relatively easy for someone in Kerala to get into exhibitions and sell one's work of art in mid 2000s. You simply must have a detailed eye for the vital statistics of the work and not-so-historic attitude. I did not have it well suited. My idea of art is different. For me art work is that which makes 'things public' in larger terms of social life, not solely in terms of a small circle of power-poles of buyers and dealers who compete for art in terms of 'private property rights."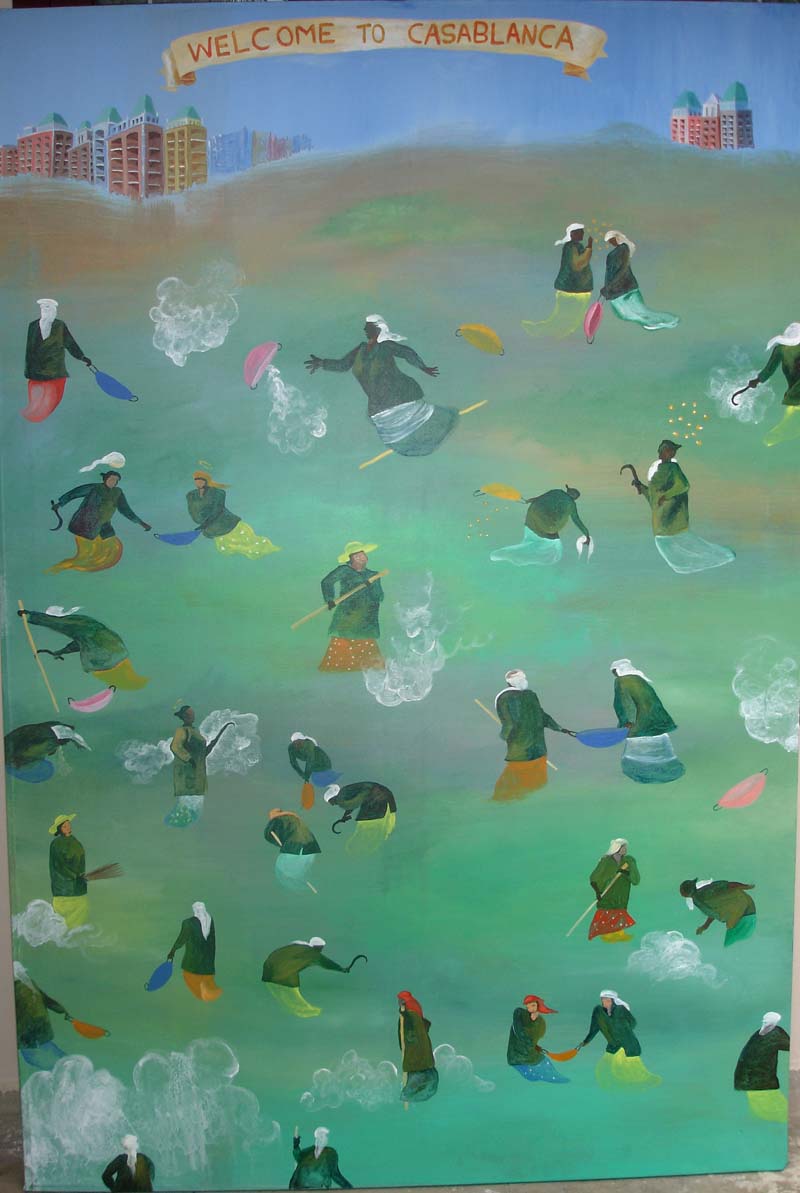 Q: There emerged some notable galleries during this time. Kashi art café did pioneering work .Of course in a traditional way Kerala Kalapeetam .Many sprouted like Palette, OED etc. Durbar hall was not so famous hen. How was your painting and exhibition experiences ?
Kavitha: Yes, Kalapeetam and Palette people were operating locally but they were instrumental in giving quite an exposure to an art loving community in 1990s Kerala. But a new generation of art facilitators, gallerists, and dealers, emerged in 2000s. Kashi art café is now part of history because Anoop and Dorrie were apparently, the facilitators for the 'Bombay Boys movement' if I can call it so! Inother words, Kashi was an artist-driven space. It supported many young generation artists, along with revitalizing the 'radical generation' seniors into a freshgeneration of global art practitioners. Without much of such an artist`s capital,Gallery OED was also doing a few interesting shows and featuring youngsters.
From The Sketch book of Democracy
Q: How did you associate with this new scenario as an artist?
Kavitha: As an artist I had my reservations with all these changes. I involved in it more as an art researcher and a self-initiated curator. It was fun. It was like experimenting with the situation into which you can not directly involve. Through my long essays in a series called 'Up Close Personal' in the now defunct webzine called artconcerns.com run by Dilip Narayanan of Gallery OED, I tried to historically contextualize the new art world icons in a format emerged from my conversations with them. I studied the works of N N Rimzon, Gopikrishna, Shibu Natesan, Baijiu Parthan, Sudarshan Shetty, Sudhir Patwardhan, Pushpamala, N S Harsha, L N Tallur, Bose Krishnamachari, Riyas Komu and Surendran Nair. Aim was to reveal the number of Indian locations and cultural memories reflected in each of them. In course of the preparations and conversations for his, I realized that some artists were even kept as 'private properties' by the art galleries that represented them in larger market circuits. Prizing of art was just an infatuation. That had no connection with the cultural capital of the artist or the art work. Art criticism looked like an unnecessary activity. Galleries sometimes even ask a writer to take prior permission to write on the artist they represent ! Such political power of a capitalist industry does not allow art's social capital to open in a democratic form. Despite all liberal makeshift of the art world, this was replete with the moron attitudes of many people involved. This new institutionalization of art was driven by an artist-enabled generation of dealers who were simply driven by 'soft skills' and the hierarchies of art markets on primary and secondary levels. Very few of them seemed to realize that being an art dealer or artistic collaborator was a hugely creative task, much like an artist's task, addressing larger understanding of history and culture. But I could well connect with brilliant artist-people of that time. Contemporary Artists did not openly discuss matters other than their art, their shows and their travels while their art works reflected these horrors and desires of a private affair. This also reflected in the ways the contemporary art's exhibition openings and even the artist-lists were designed.
Q: What exactly were your reservations to this scenario?
Kavitha: I like to do art and look at art for matters related to life, love, and democracy. The lack of these in many institutional forms interests me only tocritically deal with. I do not want to be party to it unless and until people can bring changes in an inclusive environment beyond personal fancies. In 2005 I started my career as an educator in Govt.College of fine arts, Thrissur. I feel quite at home working with a public art institution that offers quite affordable art education in the times when huge pressure is there to privatize all forms of education. So it is much more than a job for me. Currently we are working towards a new department of Art History where we train a generation of researchers and writers, hopefully. From my experience there I wrote articles that reflected questions in the minds of students like 'Which art world one belongs to'?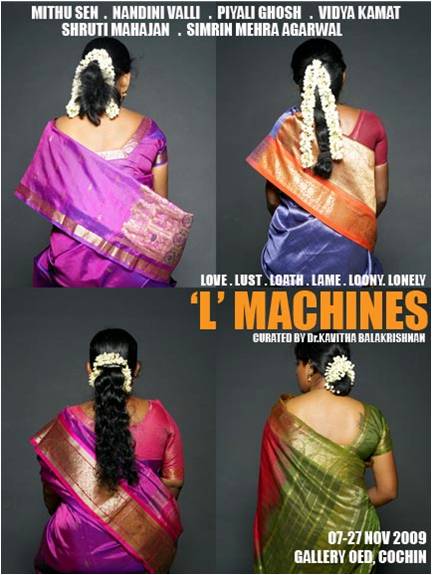 Q: You even curated shows…
Kavitha: Yes. Indeed. I curated four shows, two at Gallery OED Kochi and one each at the Gallery Art & Soul, Gallery Veda, Chennai. I did not have any capital or political connections to do it. I just had the conviction that art is not just another branding system. I also initiated a collaborative rural art project in Mathilakam village in Thrissur district. Though I got wonderful artist connections and community feeling from these experiments, I was disappointed about such curatorial ventures. The system of Art and the social machineries to which one connects it seems to be still at odds. So, I stopped this labor of curating. But I still believe the concepts around which I brought artists were significant. Machineries of love and the grotesque in life were my focus. And since 2008, many of the new generation art entrepreneurs closed their spaces due to the huge global recession. There emerged the Biennale scenario. And times are so much changing today into a post-human condition. Some call it Trans-human. Both ways human(ism) is thoroughly challenged. I think art's excitement in our general parlance is valid only in humanism. So, art's role in human lives and societies need a thorough re-evaluation. I wish a better world emerged, where art finds its relevance in a betterway.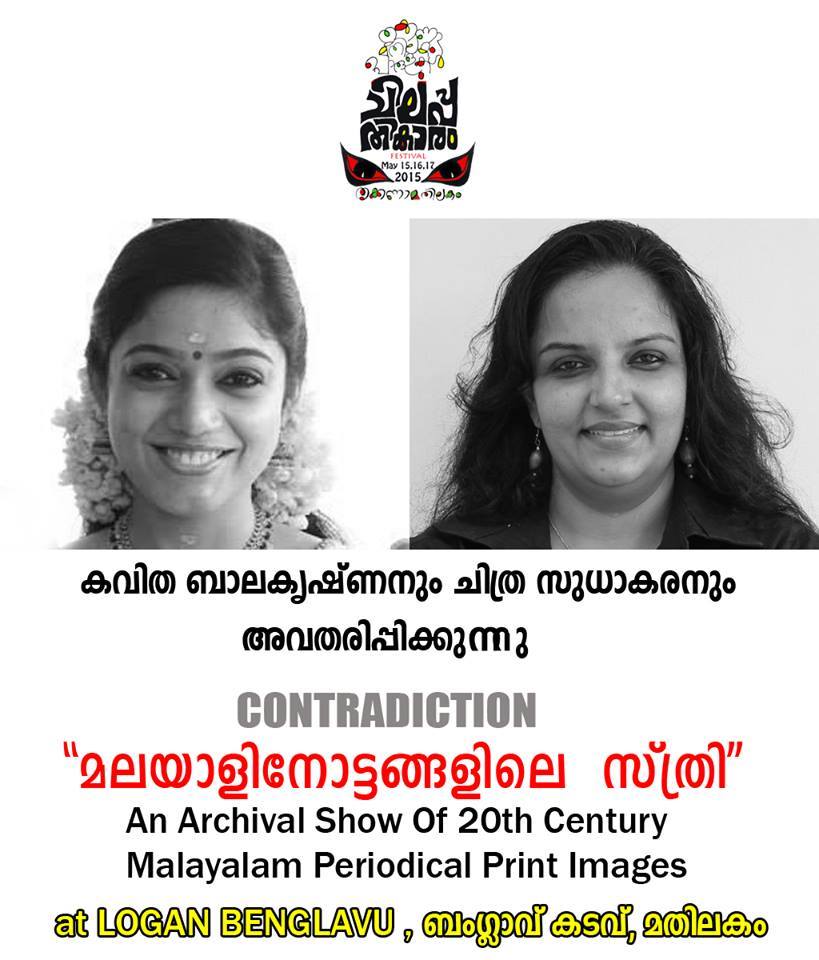 Q : Where did you find yourself an insider, then?
Kavitha: Personally , I enjoyed my artistic practices so far because I decided on the relatively open frameworks into which my works may go, on how many works I should make, where should I publish my thoughts and with which democratic setup I should collaborate. Even failures were grand attempts, I believe. For me art means manifold expressions of painting, poetry, graphic authoring, art researching and even teaching and learning life with students. For me, art is not simply about producing paintings and leave them for any machinery, just for my personal subsistence.
Q : What defines your use of colors in painting?
Kavitha: Perhaps I like the graphic quality of colors, the definable expanse of color. The print media had invented so many shades and tones I am curious about.And I wonder why my matchbox poems are black white and red ! My sensibility is not very naturalistic, it seems.
Q : What remains in my mind is your bold use of colors and themes and good strokes like the girl in a frock . You are more thematic in the painting and is political as in the colors of democracy…
Kavitha: Yes right from childhood paintings I resisted the realistic illusions that colors can make. I preferred the direct use of paint, the clay feeling of it, but never liked to leave it to some abstract sensations or simply expressionistic concerns. The thematic in the painting is important for me. While trying to understand the politics of the new art world establishments, I had started a few series on love, democracy, and the vanishing idea of grassroots. Exhibited a few of them in group shows(like 'South by South west') by Cetral Lalithakala Akademi, Delhi in 2007. My watercolor work 'Just Relax' was used as cover image by D Vinayachandran for his collection of love poems. The democracy sketchbooks are still going on. My early water colors were used as cover pictures for Sahityalokam. I am not particular about getting gallery spaces to exhibit. Books, schools, universities, streets are all fine for an artist to exhibit art.
Q: You also published graphic stories.
Kavitha: Yes, landed upon graphic stories that do not strictly fall in the categories of literature or of art. I have been just a poet among painters and just a painter among poets. Both ways I was relieved of too many burdens and peer pressures !Insight Publica of Calicut published my experimental picture-book called 'Poo Enna Penkutti', (the girl called Poo) in 2018. This was the story of female life that searches spirituality in religious scriptures. What happens to such a girl, is the story inspired by the political incidents in this part of the world where a lot of issues keep surfacing in the public about the life and choices of women in society. It was also exhibited as art work in the Center for Experimental Art, Portugal, along with two other fellow artists, Savia Vegas and Charlie Holt. Meanwhile my visual poetry series called 'Matchbox poems' were produced as limited edition Matchbox cases by Cycle Books, Talassery. From there, those A-4 size drawings were shown in Merzbarn, London, Manchester University and the Edgehill University, UK. I am also represented as a visual poet along with Dona Mayoora in an anothology of Asemic &Visual Poets collective, USA. Another series of stories I started recently is about Leelavati, 'the playful one'.
Q: Then how do you look at your career as a painter ? Which are the influences in your work . Seems you are your own mostly. Colour and ideas flow from your world of thinking and perspective .That is a blessing, and it can pose problems as it is difficult to get an original treatment noted and embedded in the mind of the spectators or connoisseurs of art .A kind of struggle of the soul?
Kavitha : It is true that I do not have a 'career' as a painter so far. I rather like this erotic landing in the in-between spaces of genres and discourses. You suddenly get unsettled and fresh, though a little difficult to get habitual reception. I am perhaps the one who carries the pain of the legacy of polarized sensibilities of 20 th century modernity. My being artist, woman etc cause a lot of pain and that also gives fresh perspectives. Perhaps this helps me understand the lives and struggles of some of my brilliant students who are also artists, women, lesser privileged men and have different kinds of subaltern experiences. Perhaps it will take ome more years for me to do another solo show. I do not mind being late. I took twenty years to bring out 'Vayana manushyante Kalacharithram'.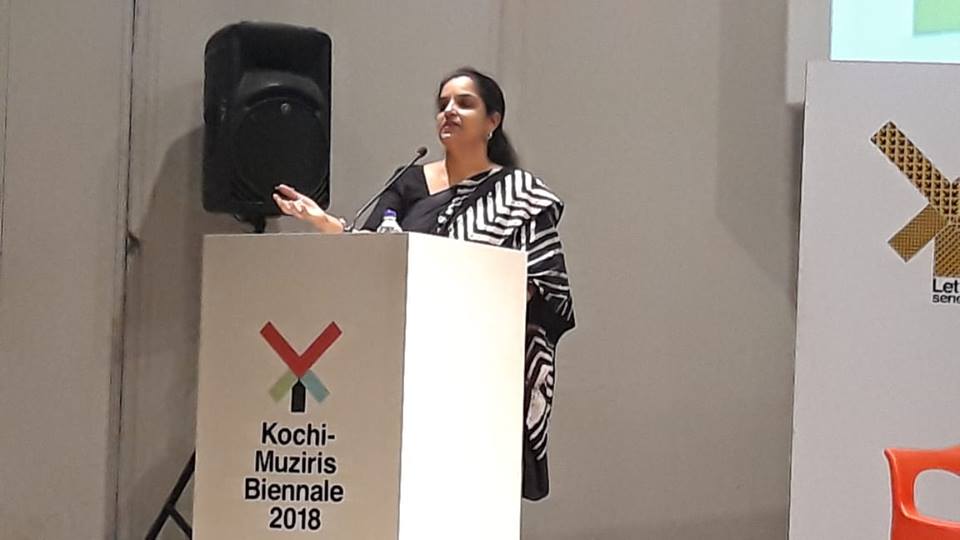 Q: Then Kochi Biennale happened, which made a big change in the perspectives of the Malayalee .You have associated with it in the first edition. How was it?
Kavitha: Biennale was nothing new. It had been a worldwide format of large scale expositions in twentieth century. And yes, in India and particularly in Kerala, it was bringing in a chance for the people to connect with such a format. Anything that happens in huge scale in a marginal region of modernity will be historically important. You need to criticize its lack of democratic ways and public accountability. But you cannot reject its capacity to assert the need for artistic people in a society. The entry of Biennale format into our life provokes us to think of alternate ways to collaborate too. We have today different forms of art activisms and artist collectives like 'Kalakar' that are not this huge in scale, but I find them more loudly intervene in political matters than Biennale. That is why in October 2012, I wrote the cover story for Deshabhimani weekly saying 'Vested are the interested parties in contemporary art'. Our art world got thoroughly politicized by the Biennale. My research materials from Malayalam periodicals were re-curated in the first edition and we did it under the banner of Varavazhi, a temporary collaboration. But more interesting for me was the way that collaboration brought me and friend Chitra Sudhakaran together into another show 'Contra-Diction'. Itwas a feminist trail into the same materials. That was shown later in the rural art project I initiated.
Q: Who are the artists you follow in Kerala and outside ?
Kavitha : Currently I am working on a series of video essays called 'Kalakari'.They are getting published in the Facebook page Poetria, of Malayalam women poets. It is my effort to push thoughts from various points towards an idea of 'kalakari' which is something beyond mere gender category. I share a kind of 'Judith Butlerish' idea of identity in matters related to feminism. But I want to digest it to art history, especially from the insights and perspectives of a marginal third world experience of art history. So I find my fraternity of people in anybody who is a 'Kalakari' It could be the Iranian graphic novelist Marjain Satrapi or American artist-illustrator Amy Cutler or Kerala's monumental sculptor Chitra E G. It could be even Surendran Nair or Vivek Vilasini. It could be the ones I have had in class like Unnikrishnan or Dhanyamol or my friend and teacher Shivaji Panikkar.
Q:You had spent some time visiting England and collaborating with artists there ?The experience of the artistic sojourn and how it helped your artistic perspective?
Kavitha: I met Charlie Holt during his first visit to India during the first Kochi Biennale. He is an artist educator who had spent a lot of years in Liverpool Hope University. He carries the spirit of random collage both in art and life. His wife is a textile designer who incorporates the 'chance effects' in her digital design art. On a fine morning Charlie sat across me in the college studio space to introduce himself. Iwas amazed by his neo-dadaist orientation. I showed him the matchbox that I wasmaking those days and he was so excited to see that. He loved my efforts in cross breeding the genres of poetry, calligraphy and object-making. He planned a group show at Merzbarn, Lake district UK. Merzbauten was a historic invention of the cross generic modern artist Kurt Schwitters in early decades of 20 th century. He had once escaped from his home, the Natzi Germany and lived across places that include this location in Lake district. Now 'Merz Barn'is an ongoing project of recovery and restoration of those memories in UK. We did a show called Poetry & Collage there. Later we made an artist collective called Jigsaw and showed our recent works at Laufer's café , Fort Kochi during the last Biennale. Ours is an eight yearlong collaboration now. I also had connections with the illustration research community in UK. So on an academic visit, I connected with all of them in 2017 and an art travelogue called Jigsaw Puzzle was published by DC in 2019.
Q:There is dearth of good visual literacy in Kerala unlike literature which has made a mark in the last century and part of our life. What do an artist based in Kerala feel ?
Kavitha: Well, everywhere in the world today there is a corporate visual culture that is dubbed as 'contemporary'. We do have our artistic, residential, and commercial buildings, logos, posters, banners, all sharing this homogenous visuality. Question is, do we have an eye for something that can make a distinguishing mark ? a different visual research and experience? The narcotic power of naturalization persists, wrote Norman Bryzon in 1980s, in Vision and Painting. The 'literary visuality' is one integral part of this naturalization regime. Media houses and popular common sense promote it by various means. Actually Vayana manushyante kalacharithram was trying to make a Kerala context of this history. Old photographic, caricaturist languages are now scaled up into the carnivalesque, the monumental, the troll, and the meme languages. All are producing visual clutter. These languages are widely mimicked in contemporary galleries and museums too. From this visual clutter, we often can't distinguish an original experience of visualizing. That is the general crisis. Specifically, in Kerala,our literature is basically representational in nature. It sidelined the experience of collage and visuals that would have disturbed the pleasure of realistic reflection of life. Our literature regime allowed pictures, photos and drawings that can Illustrate the stories through human figures as characters playing prescribed roles. Generally, people here got colonized by a taste of academic realism that has its roots in Ravi Varma's oil paintings. Modernism that could liberate from this realistic representational regime had been a fringe activity here. Now we are pushed into a world that fakes all our representational leasures. But a technology driven world has now forcefully broken our pleasures. And there is an uprooted, de-colonized, de-localized public for art today. That can keep an open mind to art in the years to come, I hope.
Q:You are one of the few painters who carry a robust feminine view of the world art which is a celebration of life. You may find it at odds with a flurry of creative activity where body and mind in concrete forms fight for its space on canvas .As an artist how have you managed both the impulses in your work?
Kavitha: From my socio-cultural research, I gather my painterly impulses too. Long back I have presented my body as a caricature of male pilgrimages. Some other times I have presented the uprooted bodies of estranged labors. Today I can see how much it pulsates with the farmer's struggles against a corporatist government. My personal body of a female is no more simply a personal matter for me. I am currently trying to picture the mother tongue. Letters in Malayalam, the wavy movements inspire me. Letters have bodies that can remember their lost meanings. The era of literacy and the domination of literary language has almost ended. Era of our binaries – body/mind, man/woman, nature / culture - are done with. We have entered a confluence of sensualities, both on an actual and virtual scale. In this turn, because of my living the life of a woman, I realize that fraternity, compassion, and experimental attitudes make art possible at all in this world. Exclusive habits and alienation are the legacy of patriarchy, caste hierarchies and imperialism. I am just going crazy around visualized bodies of letters these days…this is what happens when the girl loses her mike to speak loudly.
Q: As a woman wasn't it a difficult place, time and creed? Other women painters and their dilemma in a mostly male world?
Kavitha: Sometimes I often silently sit and talk to the remaining presence of T K Padmini. Kalakari is another kind of human species. Perhaps I cannot respond to this question well now because I am an insider of the whole problem. Now I am living, doing, thinking, and writing it. Hopefully, I will answer this question by another book, in some years to come.
Q: Actually, colors and images should come quickly to women, but the voyeuristic appeal comes from men's point of view There is no Sappho or women with desire in paintings? The intensity of colours as in Caravaggio is missing .it is more like a soft natural flowering which is not in tune with a very cruel world like ours?
K: I do not think colour is essentially any easier for women to access. Color is the language part of art. That's all. As artist, one cannot solely live a woman's or man's life. Art is a larger question of human race finding a language, space, and time to think and exist. And you are right, men as artists often spoil the female body even in their imagination. Women in art must first address this violence and then enter one's body in a fresh way. It is like a post-rape situation in any period. Look at a Nancy Spero, An Artimisia Gentileschi, a Paula Rego and many who frontally addressed the mutilated body. Also look at a Georgia O Keffee, a Nilima Shaikh, a T K Padmini who rejected their time and reclaimed the body to go poetic around.
Q:You have resigned the post in Lalitha kala academy in protest against the treatment meted out to the dead body of painter Ashanthan, which is really a good gesture .The streak of protest and the assertion of woman is a hallmark of your work professionally and personally. How do you reconcile with a more patriarchal world ?
Kavitha: See, we all are born to a democratic country with a constitution that assures equal status to its people. A compassionate and pluralistic community of artists is important to exist. Cultural institutions like Lalitha Kala Academy should have a vision and responsibility towards making it. But administrative exercises are solely politically decided without any respect for creativity and creative methodologies, I feel. They do not have time and interest in any visionary activities. Without any thinking, they are prey to the changing ideologies of privilege machineries; hence this shameful treatment of a fellow artist happened.Rejection or resignation need not always be a useful act, I know. But I strongly felt that I need not waste my energy in such machinery. If realized its potentials,academy is a hugely important institution. In the last five years it could have researched and documented much of our local artistic materials that lie in the darkness of the past. It could have connected the local artists in newer ways with wider art world across locations. Unlike the private partnership institutions, a public educational institution can produce more sustainable new models of art practice for a generation of people. But the vision is missing. So while physically existing, it often turns defunct. In this scenario, I can reconcile with institutionalisms only in my own terms, like what I do with the institution I teach.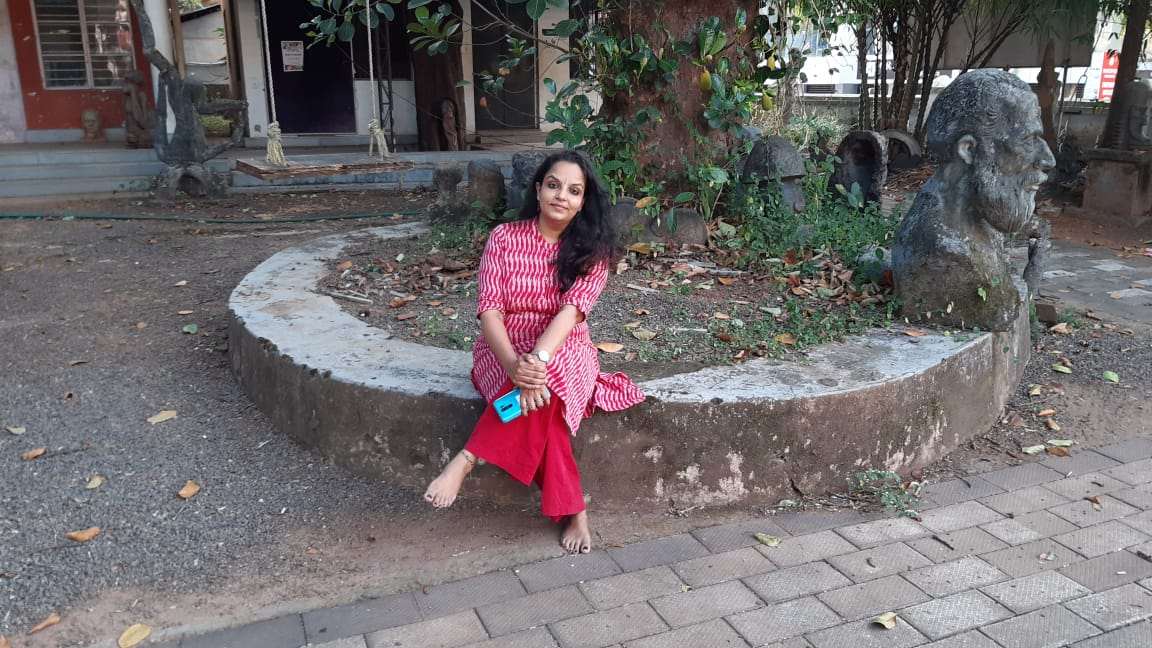 4:New Dimensions, New Paths
Q: Life especially as the teacher of art history may give a momentum to the aspiring painters in Kerala and may force them to explore Kerala as an avenue for creative outburst and a market for their works .What were the impressions you gathered as a teacher of art.
Kavitha: As a faculty member in Art History I try to give the students an orientation to the discipline of art history so that they can put that into their own use. I am also aware that one is supposed to teach a discipline already dominantly created by Euro-American scholars and a few Indian scholars who faced the challenges of colonisation and 20 th century internationalism at various points. In such a paradigm of art history we teach and learn, we also need to consciously create new rooms for one's immediate environments. For instance, articulating art history from a Kerala perspective. The dearth of materials shows the huge need to create it by ourselves. That is why we have started a separate department of art history at Thrissur. Teachers may not be able to find a 'market', so to say, for their works, but we create an ambience to make their own spaces, through 'thought-experiments'. That includes the ways to find financial and other support resources to live the life of an artist. Today we also have a good array of practicing artists as teaching faculties in Kerala's Govt. fine arts colleges.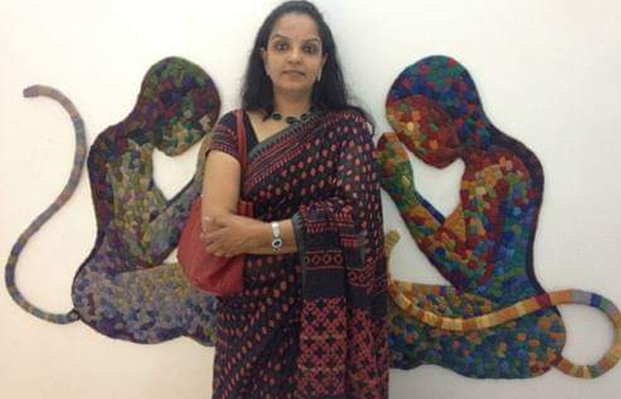 Q: Remember about a student using grains of wheat or the powder for sculpting during the Covid. Had there been a real collaboration with your students artistically
Kavitha: Teaching, if taken in its true sense, is by default collaboration in life. With each student, a few in particular, we start a lifelong relation. It is about living together in pains, pleasures, and introspection. I have written about a few of their works. Some participated as artists in my curated shows, immediately after their studies. And yes, during these pandemic times we are connected online. This reveals a lot of new ways to approach not only our methods of studying, but also our medium and practice. One day a student posted her sculptural works done in wheat batter. Suddenly I remembered that in her age, I had written a poem'Gothampushilppam', about a wheatuette ! Those were the times I started learning to face the absurdities of life. An unfamiliar, un-poetic theme could be poetic, by the use of words. The same way, I saw Ashwati Prakash in her new situation finding a language for her own purpose. She expresses a wilderness of thoughts through the materiality of damp wheat. Thus, we discovered each other in similar theme and we shared it in the form of a video.
Q:How do you find time to dabble in so many works at a time? As a woman you are also supposed to be a homemaker too.
Kavitha: My amma has strong role in making my life easier than her as a woman. Unlike her, I can now say that home is an easy matter if you do not take it as a pre-supposed role play. And that is the difference between two female generations. We have been living through a period of intensified debates on gender politics, right? Perhaps that is the reason, I started thinking this way and we now mutually share this idea. I have written a poem called 'Mulappu' on this female generation gaps and new realizations.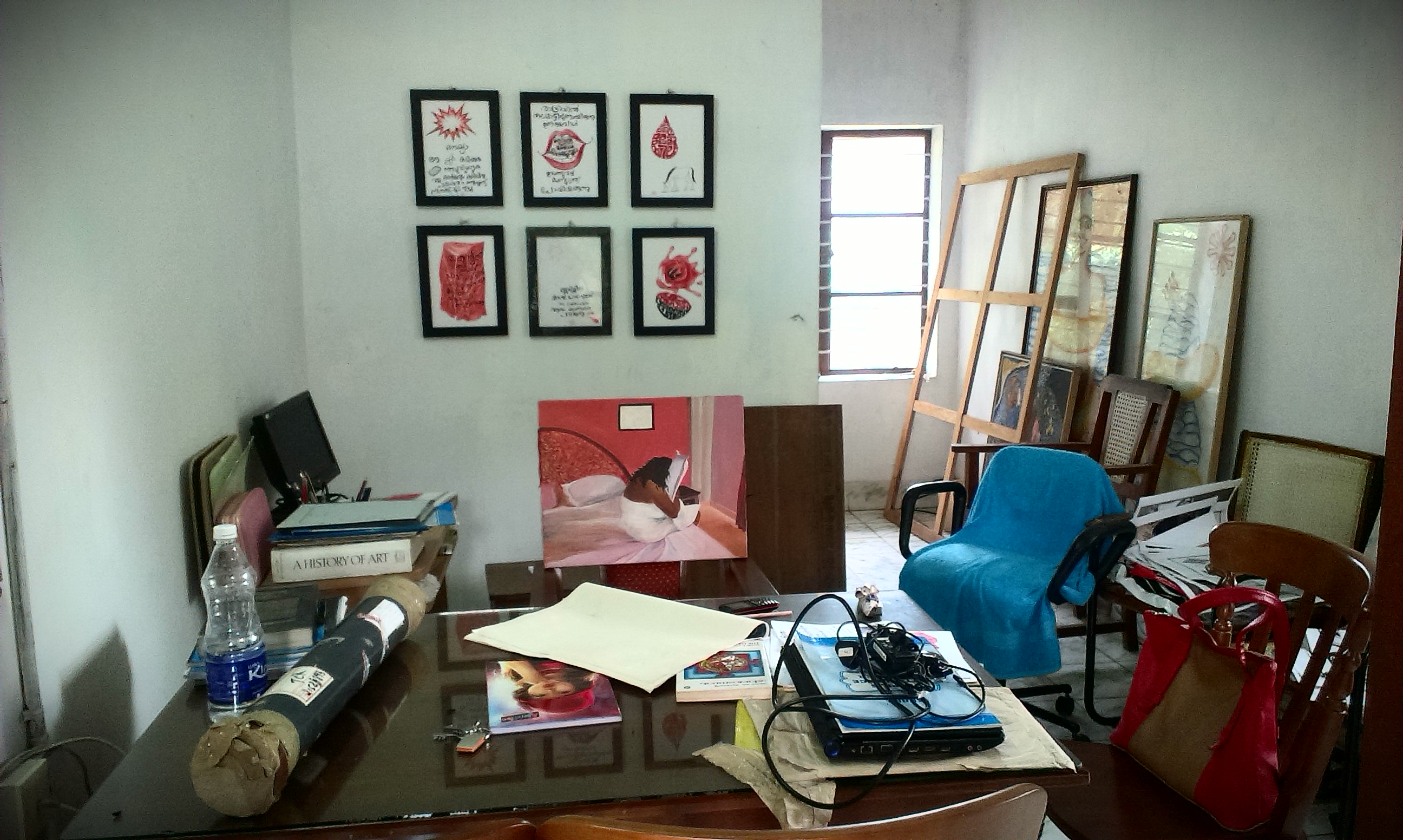 Q: How much are you supported by family ?
Kavitha : It is not a matter of support. I try to make it a point that my being an artist, poet or whatever, is not at the generosity of any family member. Whenever roles as husband, wife, father, mother, son, daughter etc come up, we all fall in endless delirium. I learnt not to carry home on top of my head. Right from childhood, my kind of living gave no hint to expect me to carry home that way. That must have irritated others at some points, but the baseline is love. Love is the attainable weightlessness in life, right? Just Relax…I used to tell myself and others. It is easy to love humans as humans, if not as their roles. Somehow Rajesh, my partner in many homely crimes knows this himself as well.
Q:You seem to lead a secure life but to flourish as an artist there should be bitter struggles inside. What drives you?
Kavitha: Frankly speaking we are not the sole makers of our security. Just like our home. It is made by many contesting values and people inside it and outside. Huge insecurity vests under our sense of living. Art is a way to get connected to a broad spectrum of life. Then how can you settle on to some mystified sense of security?
Q:Though there is a streak of rebelliousness in you ,at least in your thinking and lines, you seem a subdued ordinary Malayali girl of the times .You never make voices or hysterical outpourings or indulge in theatrics, which may be good to get attention or lead a bohemian life .Is the conservative in you limited your vision of the artistic real?
Kavitha: The binary of the rebel and the conservative is only a possible mode of thinking about one's intellectual life, especially the artistic. Anyway, I am looking for an honest sense of existence and connectivity, not limited to myself , my home and my time. Rebellion is not always an aggressive and loud performance. It has many layers of effect. Personally, it seems I am not a loud attacker, but one who turns light on the unexpected corner. The powerless and the fraternal self-dwell there, I believe.
Q:You are on the verge of youth and maturity .You dabbled in many artistic pursuits and is part of many new projects. But ultimately what matters is the artistic world you create .Of course Vayana Manushyan is a big contribution and your poetry is different and sensuously bright .What are your plans? A series of paintings, creative burst of poetry? Serious reflections on art?
Kavitha: These days my painter's life is intensifying those sketchbooks of love, democracy and the grassroots. Serious reflections of art will also be a search for more effective language; possibly a new way of doing poetry also. But 'Kalakari' series is going on. The female artist has produced another kind of 'human species knowledge' through art works in history. Finding ways to write and talk about it, ismy ongoing major work. After that I would focus more on how to dismantle the girdle of 'politicized religion' from our artistic material culture, the folk, ritualistic and carnival traditions. That will be possibly a kind of subaltern art history resisting against the revival of the right-wing cultural history writing. There are quite a few fellow scholars into Art History research today. I am also curious about what work they are all doing. Lot of travelling suspended due to this pandemic season. Need to resume...
Q: What is your world view? Your vision of life? As a woman and a human being?
Kavitha: The world is still being made and sustained by direct human labor, the grassroots! But the world is controlled by virtual labor. So, the human labor is increasingly getting trashed. In this barbaric world, woman will stand up and claim the beauty and the dignity of existence, labor, art, and sustenance. Our knowledge systems must expand and incorporate all kinds of living and technological organisms. It is happening across locations in the world, I believe.
Q: How do you place yourself in the scheme of things as a person and an Artist?
Kavitha: As a fraternal and hence political being, in the age of trashing machineries !
Q: Lastly, I think Malayalam has not got such a rare art history like Vayana Manushyan which is so simple like a story, exposing the artists techniques and ideas even to a lay man without compromising core values of such a serious work. It is deep in evaluation and strong in criticism of the players. As you transform it into English, what are the constraints and promises?
Kavitha: In English it is going to be the same work placed within a more rigorous conceptualization of 'the reader-viewer' . I will weave references from other Indian language contexts too. I had omitted it in Malayalam.
Q: Do you think there would be a transformation of our art scene and what do you envision for you ?
Kavitha: Our art scene will thrive as the markets rise, but art and artist will be more trashed than earlier, I fear. The monuments of such trashy existence will keep getting fetishized and celebrated by the world's biggest museums. The dominance of virtual practices and habits acquired during this pandemic also might reduce art's physical importance and redefine its object status. But there is going to be more effective self-supporting communities who can connect artistic practices with immediate societies. I will keep looking for such connectivity anywhere in the world.