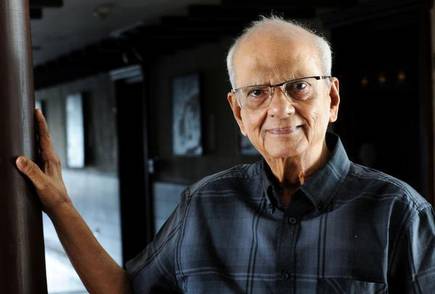 Political Problems with an Independent Writer
P K Sreenivasan
Tamil Nadu is beset with several base and ulterior political issues, which is a legacy of the Dravidian politics. The writing and literature also follow the trend in politics. But there are some writers who keep their own identity and are proud to be so. Dr. Ranganathan Parthasarathi ,who is more famous as Indira Parthasarathi, his pen name , is a writer who is never found on the backyard of mainstream politics. He is a genius with sheer willpower to resist political patronage and maintain individuality (Writers or dailies of Tamil Nadu did not even know that he completed Ninety years of age on tenth of last July.) From the start of his writings ,Indira Parthasarathi, tried to criticize authorities, political equations and assess society with a shrewd and strong personal viewpoint . Hence, he was looked at with displeasure and suspicion by rulers. He was ever ready to criticize the contemporary life and political view with a strong mind .
He had to pass so many complex obstacles as he wrote against the evil design of the authorities. But did not bow before anyone. In the novel "Vedapurathe Vyaparikal" he expressed the tale of a society found to live without knowing relevance or importance of their roots. Story of a country which lost identity due to overindulgence of politics. Entangled in defunct administration of authorities who lost insight, a land of centuries old legacy is destined to endure all miseries. Realizing that there is no relief from the tragedy ,they build temples for leader. Forsaking meals and other primary necessities ,they conduct festivals, ablutions and enjoy bliss. Vedapuram represents a cross section of Tamil Nadu.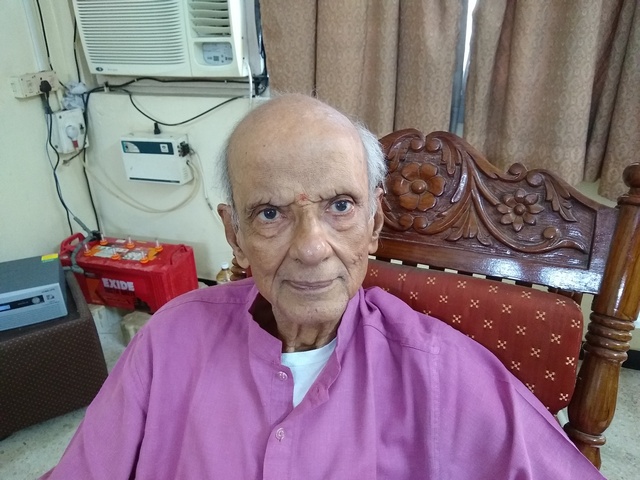 Indira Parthasarathy, the most powerful Tamil writer of the day ,laughs at the helplessness of Vedapuram which spoiled great political future in the glitter of cinema.
Story advances through Apoorva ,a foreigner ,who is coming to study life of Vedapuram and its people and write a novel through direct experiences. This young lady knows that her grandmother's family roots are in Vedapuram. But right from the moment of landing at Vedapuram ,its political views embarrass her. The puppet shows staged there in the name of democracy even perplex her. Who will approve the impudence of administration, bringing reforms like placing separate waste bins for the poor and stray dogs to avoid fight with dogs and humans? She is shocked as if she were hit with a thunderbolt to learn the reality that none has seen the head (man or woman) of state in Vedapuram. Foolish people also accept the strange announcement that one day leader dissolves as vapour into the sky.
The idea shaped in Indira Parthasarathy's mind during the time of Jayalalitha's rule. It was when he came to settle in Chennai after a life abroad. The sight of a leader and friend becoming a shame of the state by amassing wealth and land into their custody worried him. He knows that his land turns out to be one, receiving meaningless political tragedies. He shares the idea to his friend, Kalki editor – thus a decision to serialize the novel was taken. But Parthasarathi did not forget to remind him of consequences. When they started the novel there were attacks against Kalki. Though threats were there,the editor did not yield.to it and continued with the publication Parthasarathi is still upset that t that it did not even became a news. That is the misfortune of Tamil Nadu. He quips if such a thing happened in Kerala the response would have been different . In 'Vedaparathe Vyaparikal' we see the public abiding by the existing political dispensation He used to say that he was surprised at the award given to it by Bharatheeya Bhasha Parishath.
The basis of the novel 'Kuruthipunal' was related to an incident at Keezhvenmani village in Thanjavoor. In a confrontation between middlemen and agricultural labourers, around forty Dalits were burnt alive in a hut. Among them ,the majority were women , kids and old. Parthasarathy says that what he penned was not a report of Keezhvenmani incident but a novel. Everything known about the event was portrayed in the novel. Characters were imaginary. Ignition was of original event, but light was mine. Parthasarathy was blamed then by Marxists that by adopting. Freudian style ,giving importance to the sexual issues ,a financial attack on poor was under estimated. If reader feels burning of the poor by feudal lord Naidu is justified , it will be the greatest failure of the novel – he says . Novelist's firm belief is that psychological enquiry into the incident has in anyway affected the central element. May be because of that debate Kuruthipanal got attention of readers and politicians . Thanks is due to the communist party for creating the controversy which helped the success of the book . When semmalar interviewed Parthasarathy forty years back ,it was agreed that the party stand on the novel taken then was faulty. Generally we know that sacrifice means blood. How many know that it is blood spilt on outrageous flow? To finish his revenge Parasuraman sheds blood of Kshathriyas of 21 generations as sacrifice. Kambar says of Kuruthippanal in Kambaramayanam . He says the sacrifice of blood prompted him to mention Parasuraman at the end of the novel.
When Sahithya Academy published Kuruthipunal in English one and a half chapter describing wretchedness of a political leader was removed. Moralists of Kendra Sahithya Academy cut off the portion where a ruling party MLA drinks in public and plan to indulge in adultery – Injustice of this 'political editing 'was known to him only after the release of the book. (Recently .. I have ranslated Kuruthipunal into Malayalam for Kendra Sahithya Academy. When I asked about the removal of one and a half chapter from English translation of Kana Subrahrmanian he kept silence. When that translation came he was at a foreign university from where he could not react to it ).
In dramas like Aurangazeb, Ramanuyar, Nanthan Kathai he chose subjects mixed with history and myths. Aurangazeb was written before emergency. When this was staged in 1976 in Hindusthani ,protests came from authority. Staging was to be stopped. Following protest this drama was withdrawn from CBSE Tamil Syllabus. He used to comment, sarcastically that 'it was withdrawn on time'.
The Novel 'Krishna Krishna' was wrote based on the character Krishna with different dimensions which is not yet seen in world literature. There will be objectives or small desires those could not be fulfilled or difficult to obtain in subconscious mind of each person. Novelist says that Krishnan is a collective reflection of such men. The specialty of Krishna is that in any century he can be attributed, meaning he represents the values of the times. Parthasarathy says that it inspired him to write such a novel. On completion of writing ,his worry was there were no Tamil publication to serialize the same. Here he compared the state of Tamil with Malayalam .
Parthasarathy never cares to seek favours of government. DuringVedapura time attempt was made to bestow supreme state government award KalaiMamanai to please him. Award committee chairman was Kunnaikudi Vaidyanadhan.Without consulting Parthasarathy he was put in the list. Seeing news on dailies, Parthasarathy got angry. Yet being calm by nature he wrote to the concerned , refusing Kalaimamony title and remained at home. Parthasarathy says that the letter he received was signed with a rubber stamp of KunnikudiVaidyanathan. An award committee chairman who has no time to put his signature. His innate humour comes out. Even today he is happy of the refusal of"Kalaimamoni title,which are given to actresses like Khusbu". Only Karaikudi Mony – the famous musician and bold Cho Ramaswamy, editor to Tuglak have refused this title earlier.
Indira Parthasarthy the most noteworthy dramatist, novelist, story writer, historian and critic in Tamil literature was born in Kumbhakomam,Tamil Nadu on 1930, July 10th. He taught at Delhi, Vazhra (Poland)and Pondichery Universities. He has made lot of discourses on Indian philosophy at various universities of Canada. Around 20 small and big novels, six short story collections, ten dramas and two collected essays are in his name. Marupakkam (1991) – cinema directed by K.S. Sethumadhavan based on the story'Uchiveyil' received the first 'Swarna Kamalam' of Tamil. He is the only Tamil writer getting Saraswathy Samman of K.K. Birla Foundation. This honour was for the play ramaneyar (1999) Kuruthipunal the novel got Kendra sahitya academy Award while Vedapur the vyaparikal bagged Bharatheeya Bhasha Parishath prize. Kendra Sangeetha Nataka Academy Award was granted for activities I ndrama. The state t honoured him with Padmasree in 1990. Almost all his works had been translated into languages like Bengali, Malayalam, Hindi and , Oria c.Awrangazseb, Nanthan Kathai, Yesavin Thozharkal Krishna Krishna – are published in English also.
Chintha translated Kuruthipunal into Malayalam without his consent when Parthasarathi was teaching at Delhi University. He came to know of it extremely late. Once when he met E M S at Omcheri's house at Delhi he hinted the injustice of publishers under C P M leadership. O.M. Aniyan also was there. "If so, is it not a luck?" was the reaction of E.M.S. Though two editions came out neither I was informed or a copy was send" - he charges,.He asks whether it is right of the left claiming cultural heritage. I need no returns. If demanded would have allowed free publication of the same . But Chintha Publishers did not show even the courtesy to inform him .
Once when he started for permanent settlement at America, thousands of books in possession were gifted to Chennai Asan School. But fed up with life in USA he returned to India.Now he lives in Chennai. The boldness and confidence of Indira Parthasarthi has not waned even at the 90th age.
( Writer and journalist P K sreenivasan has translated Indira Partha sarathi`s several works into Mlayalam .Now hi sncollection of stories are coming up )