Ravi Shanker N ,now known as Ra Sh, (65) has been writing poetry for the last ten years after a long stint in theatre .Apart from his own poetry, he has been associated with many translation projects. But his poetry collections 'Architecture of flesh' 'Bullet train and other loaded poems' and 'Kintsugi by Hadni' have a distinct position in the Indian poetry scene. Brutal energy and imagery are the hall marks of his poems .Though coping with fragile health, he is still working on more collections. He talks with P S Joseph .The interview was conducted online.
Ravi Shankar in younger days
P.S Joseph .Ravi Shanker .Now Ra Sh . I have known you more as a dramatist with very extreme ideas .But poetry was new to you and I never knew you would become a poet at a much later stage in life .Is there any surprise element? Actually natakaantham kavitwam ennaanallo?
Ra Sh: ha ha ha! That's a good one to start an interview with. Naatakaantham Kavithvam. Probably, they meant that it is only after having experienced many things in life ( say the theatre of life) that you reach a point where you can codify what you have learnt. In my case you are putting it in a literal sense, like 'poetry after theatre.' It is true that I did a lot of theatre in my young and middle ages, especially street theatre. They needed good songs to attract audiences. Since there was no song writer in the group to write songs in Hindi that went with the theme, I took up the job of writing them in English which someone would translate into Hindi. That turned out well. I did not think of what I wrote as poems, but now I understand that they were latent forms of poetry lying inside me. It took a long time for what can really be called poetry to come out of me. By then, I was 55.
Q:Your years in street theatre? Has It shaped the poet that you are now?
Ra Sh: I slipped into street theatre when I was 28 or something. It was a Hindi group. It was something that I madly wanted to do because street theatre does not have the stiff air that proscenium theatre has. (I have done proscenium both in Hindi and Malayalam.) Street theatre demands a group that is very cohesive where the players are multi-talented. Multi-tasking is part and parcel of street theatre. Our group (Theatre Union) specialized in theatre with songs and dances and colourful costumes. On the street, you were directly confronting people. You had nothing else to aid you except for your comrades. From research stage to final production, it was collective work. I did not believe in personal art then and was happy doing it. The process of building a play is more interesting than the actual production.
I did street theatre for about seven-eight years. Then, our group slowly disintegrated as people began to be busy with their careers. Some were architects, some engineers, artists, illustrators, media people and plebians like me.
Q: What were the themes of your theatre?
Ra Sh: My group was started by some people who became very well known in their careers later. Like, Vinod Dua (Television anchor)), Anuradha Kapur, (former Director of National School of Drama), Maya Rao, (dance-theatre exponent), Manohar Khushalani who is well known in Delhi as a Theatre director and runs an online art journal Stagebuzz, Jiten Varma, Docu maker who died in 97, Chandrasekhar (architect), Vandana Bist (illustrator), Sujasha (illustrator and teacher), Umesh Bist (Film maker ), Rati Bartholomew ( Professor of English). Plus plebians like me, Vibhuti Nath Jha, Taposh Chanda, Ramesh, Asheem etc. Asheem started a music band called Indian Ocean along with friends which is famous now. He and Vibhuti are no more.
Q:You should have been with the theatre for long or you started your own ?What happened after the break?
Ra Sh: I joined this group as a singer. But, in a street theatre, there is a lot of voice throw involved and my voice was not adequate for that. We all composed songs and sang them. We acted, made costumes, used minimum percussions.
Q:Any remembrance of the impact on the audience?
Ra Sh:The group itself started with the theme of bride burning which was rampant in Delhi. Later we took up subjects like multinationals and the drug industry (Marz se Munafa), women's liberation (Pardon ka Parcham), communal harmony ( Toba Tek Singh by Manto).
The one on pharmaceutical drugs was very illuminating. I myself did all the research going to VHAI (Voluntary Health Association of India led by Vandana Shiva who is a big name now) and collected all data. We made a very amusing play which everyone could understand. Toba Tek Singh, based on Urdu writer Manto's famous story based on partition of India, was performed in Mumbai, Ahmedabad, Baroda when Ahmedabad was in the grip of communal riots.
An interesting thing happened in Ahmedabad. In the play Toba Tek Singh, we had some mad men crying Hindustan Zindabad and some others crying Pakistan Zindabad. In Muslim areas in Ahmedabad, Pakistan Zindabad was always met with cheers and vice versa in Hindu areas.
PSJ: Good .Now such a slogan would land you in jail.
Q: So your poetry is a culmination of your actions and thought process during the formative years?
Ra Sh: Finally, we come to poetry. I believe that what you said is what happened. It was not only theater that I did in Delhi, I had also updated myself with Marxist politics having been connected with some extreme fringes. I had a world view that questioned almost everything including love. Yes, I also had my share of love by that time. I was up-to-date with feminism, ecology and many such things that were coming up from the 70s onwards. I also had a good relationship with artists of many kinds, journalists, activists, travelers. My flat was a gathering point for many of them.
Q:What was the flame that landed you into real contemporary poetry?
Ra Sh: Active poetry came through love. I got into the habit of editing all the poems that my loved one wrote and each such edit transformed the language of her poetry. I could take that liberty with her. I have attended poetry conferences with her as her sidekick while she was the POET. Later, I thought why not write something for myself. That opened a flood. You can see that there are several love poems in my collections though they are not in the romantic tradition. I dedicated my first collection Architecture of Flesh to her.
My poem The man who loved her ends like this: We will make more room /our bed will be as large as this graveyard/of simmering dreams. /I will sleep with you. /He will sleep with us. /All my loves /All yours/ Will sleep with us. /Even the dead ones /Even those in the seeds.
One notable thing is that I am entirely a Facebook created poet. But for this technological change in communication and expnsion, I would have remained silent and never be a poet who wrote poems.
Even if there are hundred flaws, it is true that social media gave us a platform to write without intervention of print editors ( like you...ha ha!)
PSJ: yes...
Ra Sh: And, for people writing in English, there were zero avenues open.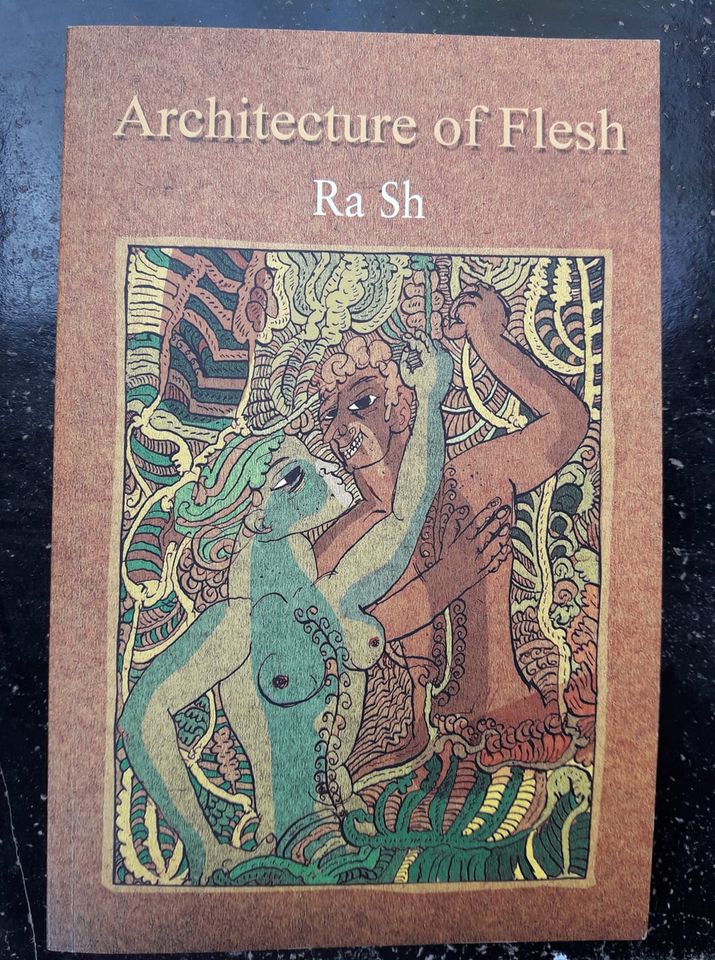 The First edition of Architecture of Flesh
The collection Architecture of Flesh was novel and searing and presented many of the everyday brutalities in a never used language. You sensed it wont be accepted?language changes images are harsh and everyday ..perhaps you were inventing a new poetic language
Ra Sh:No, it was accepted at one go. . One day, when I was in a theatre watching a film, Hemant Divate of Poetrywala called me and said, we can do it, but only 50% of the poems are good. I said ok and went home and reshuffled the manuscript, editing out many poems. The final manuscript was accepted without further editing.
But, I waited for many months before that call came from Hemantji. Many published poetry collections through others in the meantime. I was adamant that my collection should be through Poetrywala. The wait was worth it.
Q:Many of the poems in A OF are about rape killing ,violence which is part of the century but which many of the poets avoided ?
Ra Sh:I don't want to present a world that is all roses. Violence is all around us. The brutality of a common man's existence is evident. In every way, the State is turning us into zombies. The education system is making us worthless. My gut feeling is that this violence has to come out in the poems I write. Even in love poems, you can find an element of violence bec patriarchy is violent. The social system is violent. The caste system is violent.
Q:How AOF was received ?.
Ra Sh: In Indian English, there is a distance between the poet and the reader. One feels satisfied only when random people tell you about the effect it produced. That way, I have got good straight reactions. ( A major problem in the case of poets like me not living in Metro cities is that we are not in the distinguished poetry circles and there is a tendency to ignore us unless we belong to a stream.) Mostly, people are jolted by AOF. They have not confronted poetry looking at politics, love etc with such a violent eye. 'Brutally honest' is the comment I often get. Meena Kandasamy, prominent Dalit poet and novelist) wrote a beautiful intro to it. AOF had a second edition which is rare.
in 2013, there was this mag called Kindle Magazine which was well produced and had a taste for very aesthetic works. They were bringing out a special Poetry edition. One day, Meena came on chat and asked me to send two poems to her. After a month, I saw both my poems printed along with the most famous poets of that time. Architecture of Flesh and Skin Poem. That gave me great confidence. Thanks to Meena. It was a collector's item. Apart from me, Sachida had his poems too mention other Malayalais.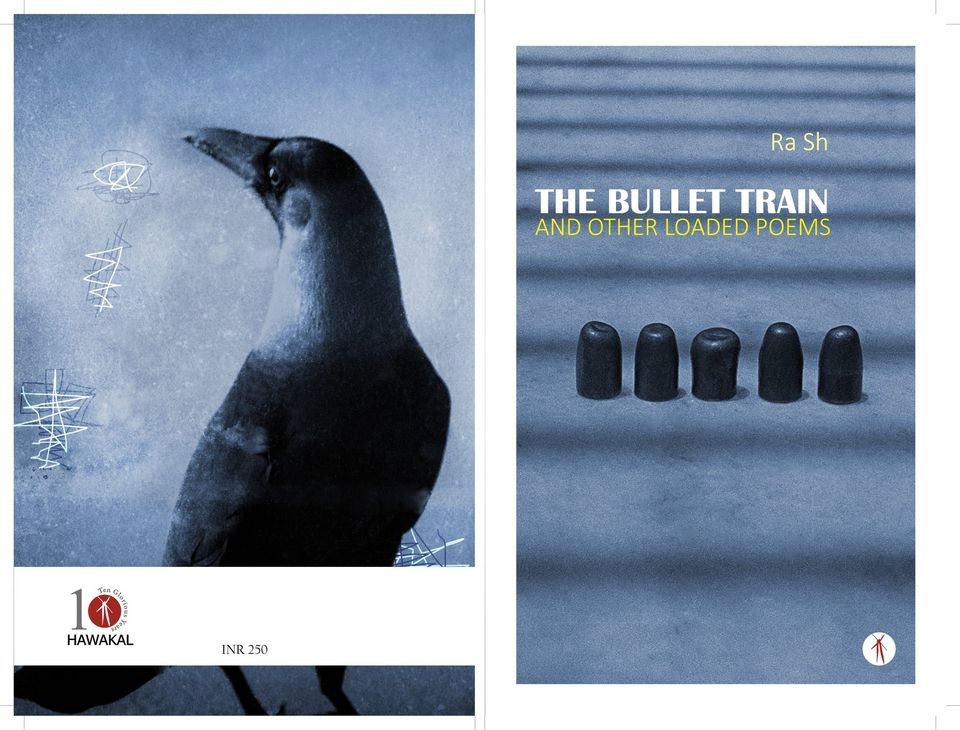 The bullet train and other loaded poems
Q: How Come the Bullet Train?
Ra Sh: Bullet Train was different because it had only one theme running through it. Anti-fascism. All poems are against the Hindu nationalism politics and Savarna politics that goes with it. It was a purely political collection.
Q:You are a votary of free verse but why in bullet train you use pure verse?
Ra Sh:I do not like formative poetry because I think it is a thing of the past. The cleverness in formatting a poem is no more needed. There are people who still go that way, but I am not one of them. Have I used pure verse in Bullet Train? I am not aware of it. ha ha ha. I dont want the flow of language to be limited in any manner in poetry.
Having said that, I have to describe what is my fundamental understanding of poetry. I consider poetry as the most condensed, purest form of language that speaks the truth about the world around us. Fiction can never manage this level of purity. So, for me good poetry is honest poetry that is daring and challenging and not accepting any conservative world view. Since it challenges all mores, it is political. Even a love poem is political.
Q:Perhaps Bullet train is the consummate work of yours as a poet. It is political, protest ,love, image all combined .Quite natural rhythm flowed in.
Would you think the train would go on and on?Secondly how about your new book?
Ra Sh: In 2015 March, an anthology titled ' A Strange Place Other than Earlobes' was published with 15 poems each of 5 Malayali poets writing in English. They were Jeena Mary Chacko, Binu Karunakaran, Sreelatha, Bini B and myself as Ra Sh. Being my first printed stuff ( apart from the two poems published in Kindle Magazine), I gave some of my best work there. The book got very good reviews, but till date we do not know how many got sold. The title was Jeena's suggestion. Let me assert that apart from Sreelatha ( who got lost somewhere down the road), they were works by some of the finest poets in India. But, none of the others have published collections while due to my perseverance or because as an old man I felt I had little time left, I was the only guy who brought out collections later.
AOF was published in Nov 2015. Because the two books came out with such a short gap in time, the poems from ' A Strange Place other than earlobes' could not be included in my first collection. It was a loss for me because many people are yet to read those poems. They did not come in 'The Bullet Train and other loaded poems, or 'Kintsugi by Hadni', except two or three. I intend to publish them in my next collection tentatively titled ' Buddha and Biriyani.'
AOF was a mixture of poems with varied themes. Mostly love, but there is politics and discussions on language like in Words and their cure, Academic Love etc. The poems have been called visceral by many. But, in Bullet Train, it is just politics that I am talking about. It is purely political and that politics is relentlessly against the State, the majoritarian fascist State, crony capitalism etc and stands with the minorities, Dalits, tribals, women and people living on the fringes of society. It consisted of poems directly attacking the State where secularism was in peril and constitutional rights were being violated. I wanted it to come out before the general elections 2019, but was delayed till after.
Kintsugi by Hadni is a collection of love poems, love that is erotic, bizarre and mostly not to the taste of the moral society around. It is immoral to the core. Though it is out as an E-Book, the printed version is stuck in a Mumbai Press because of the Covid 19 phenomenon and the locking down of all small establishments. It should have come out in April, otherwise.
Q: Have you had any poetic influences ,visual or ideological gurus? The writers with whom you owe any debt?
Ra Sh: Since I started writing poetry only when 55, there must be the influence of a whole lot of things, not just poetry. In fact, I hardly read any English poetry till then. But, I was aware of poets of the stature of Neruda, Baudelaire, Ramanujam, Kamala Das etc. Surrealism was an art movement I had a liking for. Novels of Kafka, Camus, Hesse, Mishima, Lu Xun, Arthur Kessler, Orwell have left their impact on me. Similarly, painters like Van Gogh, Gaugin, Dali, a whole lot of renaissance painters, KCS in India, Hussain, Bhupen Kakkar, Ram Kinkar, expressionist painters from Kerala etc. I have been influenced by books like Silent Spring, Female Eunuch, Communist Manifesto, the works of Michel Foucault. Foucault was a later influence as I started analyzing things the way he would. In fact, the title Architecture of Flesh is a weak imitation of Foucault's title Archaeology of Knowledge.
In short, I have very few poetic influences. I have been affected by the philosophies of many works of art. My lack of liking of metered verses or some pattern of poetry is because of my ignorance of poetic forms.
Forgot to mention Cinema. I am greatly influenced by the Masters of Cinema, particularly, Tarkovsky. In fact, the first film of his I saw was Solaris and I didnt know who the Director was. No one in Kerala talked about him then. I was stunned by his film. Later I came to know that his father was a renowned poet. I have one poem in AOF titled Solaris that is dedicated to him. I have another poem dedicated to the Japanese Master Ozu who built his films with an almost static camera.
I have a sound knowledge base of Indian, Greek, Nordic mythology because I used to read a lot of them. I have written a whole play based on the Mahabharatha, looking at it from a weird angle of two authors of Mahabharatha discussing the epic. They discover that Mahabharathas were written even by termites.
This play titled Mrithabharatham was performed in Malayalam with K.K.Rajan, an NSD alumni, as the Director. It was later rewritten by me in English and it should come out end of this year as Blind Men Write by Rubric publications, Delhi.
PSJ: You did a lot of translations?
Ra Sh: I started translating from English to Malayalam at an early age. I have translated books like Pedagogy of the Oppressed by Paulo Friere, Accidental Death of an Anarchist by Dario Fo.
Mother Forest was the book I first translated into English in 2002. It is the life story (till then) of CK Janu, tribal leader, written by Bara Bhaskaran, the painter/illustrator. We both went to Wayanad and spent a night in Janu's house doing the interview almost throughout the night. The Malayalam book and the English one were received very warmly. I know personally that many PhD theses have been done based on the translation. Even last month someone wanted a copy and I sent him the photocopy. It is, in fact, a classic work.
The next one was from Tamil to English- a collection of stories by Tamil Dalit writer Bama titled Kisumbukkaran. I faced much difficulty with the language she used. No Tamil I approached would tell me the meanings properly because they were not decent words used in Tamil literature or daily life. I had to travel to Bama's place in Kanjipuram and sit with her to get all my doubts cleared. This book too got much acclaim. It is being reworked now with additional ten stories to be published by Speaking Tiger as 'The Ichi Tree Monkey and other stories.' Should come out this year.
I am also planning to bring out Mother Forest as a Kindle edition.
Meanwhile, I had been doing translations of many known and unknown Malayali poets in English. Most of them were published in an Anthology titled ' How to translate an Earthworm' with poems by 101 poets by Dhauli Books, Bhuvaneshwar. This year, I started sending out my poems and translations to Indian journals unsolicited. Till now, my poems have been published as solicited. Nine poems have come out in journals. Translations of poems by Ammu Deepa, Stalina, Norma Jean, Vipitha, Asha Latha have all come out this year. My poems have come out/are coming out in eight anthologies including a Penguin one. Very fruitful year, I would say.
M translation of Tamil poet/film maker Leena Manimekalai's poems in English are also under way.
Q:Where do you place yourself as a poet? .
Ra Sh: Architecture of Flesh was written after the Nirbhaya rape and murder that took place in Delhi. I saw that most of the media were after the story, but the same people would not even touch similar incidents elsewhere. So, this poem is constructed in such a way that I bring out rapes that happened in Manipur, Orissa and Maharashtra before coming to the rape in Delhi. Those rapes were done by the security forces, upper castes etc. My idea is that you cannot talk of a rape in Delhi unless you condemn rapes by the army, police and the upper castes. I have deliberately portrayed them as brutal finding as in a body lying on a post mortem table. At this point the poem talks of all women who are but displays for man's pleasure.
" Exhibit on a table/ a spread sheet/ an autopsy chart/ a mortician's design/ an architecture of flesh/ built around a void/ a hollow/ a frozen corpse
:Q: Did your personal life ,grappling with disease ,social commitment etc play a part in your works?
Ra Sh: I have a dystopian view of the world which makes me bitter towards all systems that man has built up so far. To a great extent my poems are anarchic. The only hope left is in love...love for each other, love for the nature, birds, animals etc. I dont mind if the human race comes to naught leaving the space to flora and fauna.
I have studied the ideology of Communism a lot which made me only conclude that what we see as States established by Communist revolutions are not really that. It is a great disappointment for me. My anger is seen in a poem Aphrodisiac where I am directly criticizing the so-called communism in China. Instead of The Great Wall of China, I call it The Great Mall of China supervised by Herr Marx.
Q:What drives you ?What dreams?
Ra Sh: I live with the understanding that I dont have much time left bcause I suffer from a chronic illness. It is something liberating, not confining. I fell ill seriously in 2007 that necessitating me to break all my ties with Bacchus. Normlly, in Kerala, alcohol is said to be a stimulant for personal art. But, in my case, all my poetry started only after stopping drinking. I haven't found any lack of imagination in my work because of that. I have written poems prolifically since I began in 2010. I have enough material for one more collection which makes it four collections in all. I think I am burning out as a poet. So, I may go into more translations.
PSJ: No i don't think so unless one abdicates social responsibilities it wont go .
Q:Finally how is your life in a village in Palghat ?you miss the cities?
Ra Sh:When I first left Delhi and came to live in Chittur in Palakkad District of Kerala, I found it difficult to adjust to the new rhythm of life. In Delhi, evenings were when we came alive, but hereit is the time people withdraw into their drawing rooms. I made numerous calls to friends in Delhi trying to find a friendly voice. I was also a stranger in this place because though I lived here till 22, I was absent for another 20 years and my old friends were all dispersed to different parts of the globe. I had only one or two friends left over here with whom I communicated. Slowly, I settled in. Even now, most people do not know me here, In fact, more people know me in Kochi and Trivandrum.
As a child, I had a decent life as my dad was a senior Govt official. He married late in life. When he retired, I was only 7. Though we settled down in Palakkad in Mom's ancestral house, we did not have a good time here. Dad took up employment in Rubber Board in Kottayam and he took me there for studies. That was my first taste of a city. After one year, through an exam and interview I got admission in Sainik School, Trivandrum. So, I lived and studied for 5 years in a monastic military environment. I was a good sportsman and was in the school hockey team. I did a lot of obstacle racing. I was generally fond of sports. We lived in dormitories and went marching to the classrooms and back. I was a sharp shooter. I had a scholarship, but still my father found it hard to support me. Meanwhile, he had a stroke and was bed ridden for the rest of his life.
Q:Then you were on your own?
I went for these National Defense Academy admissions thrice, but failed to get in. I believe I failed the mental aptitude tests. I joined a normal college for my degree. I gave tuitions to kids to supplement the income. Things were like this when I got a job in the State government. I worked as a clerk there before I got a job in Cental Govt. I went to Delhi, leaving mom and two sisters behind. Dad had died a fw months before I moved to Delhi.
Q:Delhi changed you?
Ra Sh: Delhi changed me immensely. There was hardly any cultural show that I missed. Theatre in Malaylam and Hindi. Activities with my group called Janachetana which did a lot of things. We have done dowry death demonstrations, plays like Spartacus, Ghoshayathra, seminars with the weird combination of Zacharia, OV Vijyan, Mukundan, Anand, K Venu speaking on Kerala as a separate nationality, All India seminar on the nationality question, John Abraham retrospective, films by Anand Patwardhan etc.
I was a shy guy when I went to Delhi. A classic introvert. Who stuck to libraries and books. Slowly, I evolved. Delhi is a great place to live in
Q:You took voluntary retirement?
Ra Sh: I am convinced that one is entitled for a change every 20 years of your age. Yes, I had decided when I joined that I will take voluntary retirement in 1997. I did just that. There were offers from Corporations under the Ministry of Power, but denied them. This twenty-year change is interesting. Because my first collection of poems Architecture of Flesh was published when I turned 60.
Q:Lastly, RaSh as a writer and man .How do you look at yourself? Have you achieved a fair share of what you wanted to have? Personally how do you look back?
Ra Sh: My literary life is satisfactory now, specially s I never conceived myself as a poet. Already three collections. I never had the habit of sending poems unsolicited to journals. But, this year, I broke that resolve and started sending poems. All of which were accepted and published. My poems are part of at least eight anthologies this year. A major one is edited by Sachida and Nishi Chawla and is being published by Penguin Random Book House.
I have had a good run in a short time, I can say. Though I do not know how it would be if I had started poetry when in my 20s.
Q: No you are better because you started late, I would say so. Not much baggage.
Ra Sh: What else, now? I am thinking of writing fiction. I do have some unimaginably bizarre experiences to write about. But, I have to arrive at a language that would satisfy me. Means, I am thinking of the craft. It has to have a different design, not the narratives we are used to.
Q: Shall we expect something different?
Ra Sh: I want something different, yes. I have the freedom. I don't know whether I have the time.
:.
Ra Sh with Kanaiya Kumar ,Hari prasad and Shahina Photo Hariharan Subramaniam
Q:How would you sum up for our readers?
Ra Sh: Like I said, I see a dystopian world. Specially in India which a ruthless barbarian fascist force is set to destroy. I fear for my grand daughter and all kids of her age about what a nasty world they have to survive in. Revolutions have happened in many places for lesser crimes. I see no hope for us. But, some of us will keep fighting with words the only way we can. The virus has also come to reshape the world. Whether the poor and marginalized get something out of it is yet to be known. But, these are bad times. Like Brecht said, in bad times, there will be songs about dark times.