ME ,MY Art by K Sudeesh
M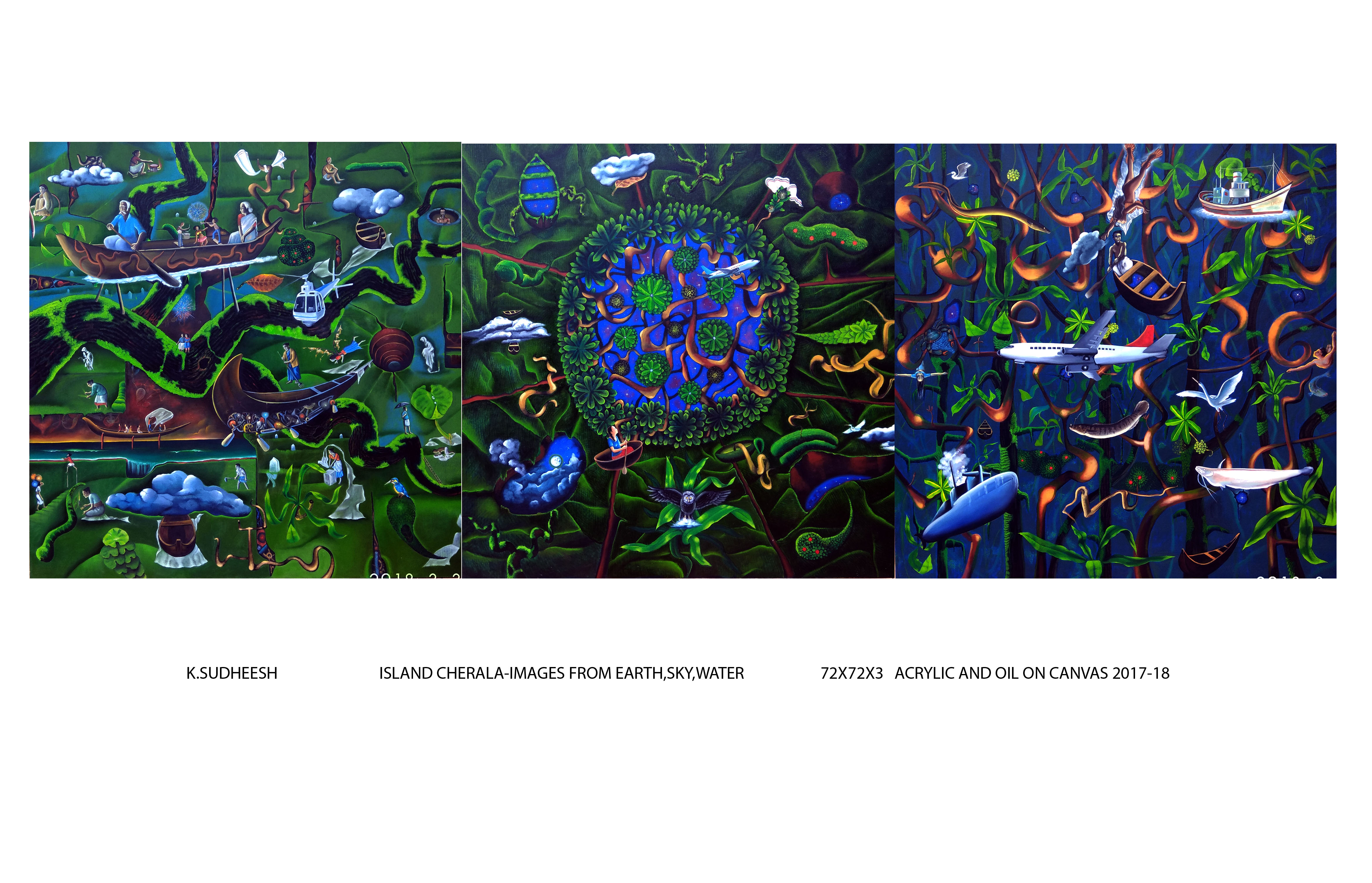 My name is K Sudeesh.
I was born and brought up in a rural village called Pollur in the district of Calicut in kerala , a costal state towards the southern part of India. I used to drawat a very young age. Ours was a join family with too many members living under one roof, next to our house was an ancestral cemetery were souls of the dead were believed to exist. The backyards surrounding the house was filled with coconut palm and areca nut cultivations. Paddy cultivation starts right after the courtyard of our ancestral home and behind the house was a small hill.
My father, Vasu was an inspector in the veterinary live stock department. Since there weren't any veterinarians in our locality my father took up the job of treating and curing the domestic animals. My father's father practiced black magic (tantric). He was a local physician, at the same time he tapped and sold toddy. My wife, Reshma is a High school teacher in Malayalam. I have two kids, Chandana the eldest is thirteen years old and the youngest Chaandrashiva is four.
None of my folks were artistically inclined. I remember the broken pieces of earthen pots and scattered beads and the deteriorated remains of bones which were washed up onto the wet soil by the first rain.i used to sketch on rocks and walls with these fragments of bones. This land was once ruled by a king named Porjathiri. Numerous myths and stories are wound to the soil of this land.
Right from the age of three when I started to draw, my source of energy, inspiration and the fabrication provenance of imagery were from this village of mine. Even though I was born and brought up in a joint family I was still haunted by loneliness and solitude. I tried to break this solitude by going out for fishing and swimming and going out with my friends to play. I had a habit of reading any bit of information I could gain right from a very young age. The two untimely deaths that occurred in my family triggered my thoughts about death and life after death. While studying in the ninth standard I fell off a tree from a great height. Even though I escaped miraculously without getting injured, for almost two years I was haunted by the fear of death. Due to the effects of this incident, I feared my death would reach me sooner or later.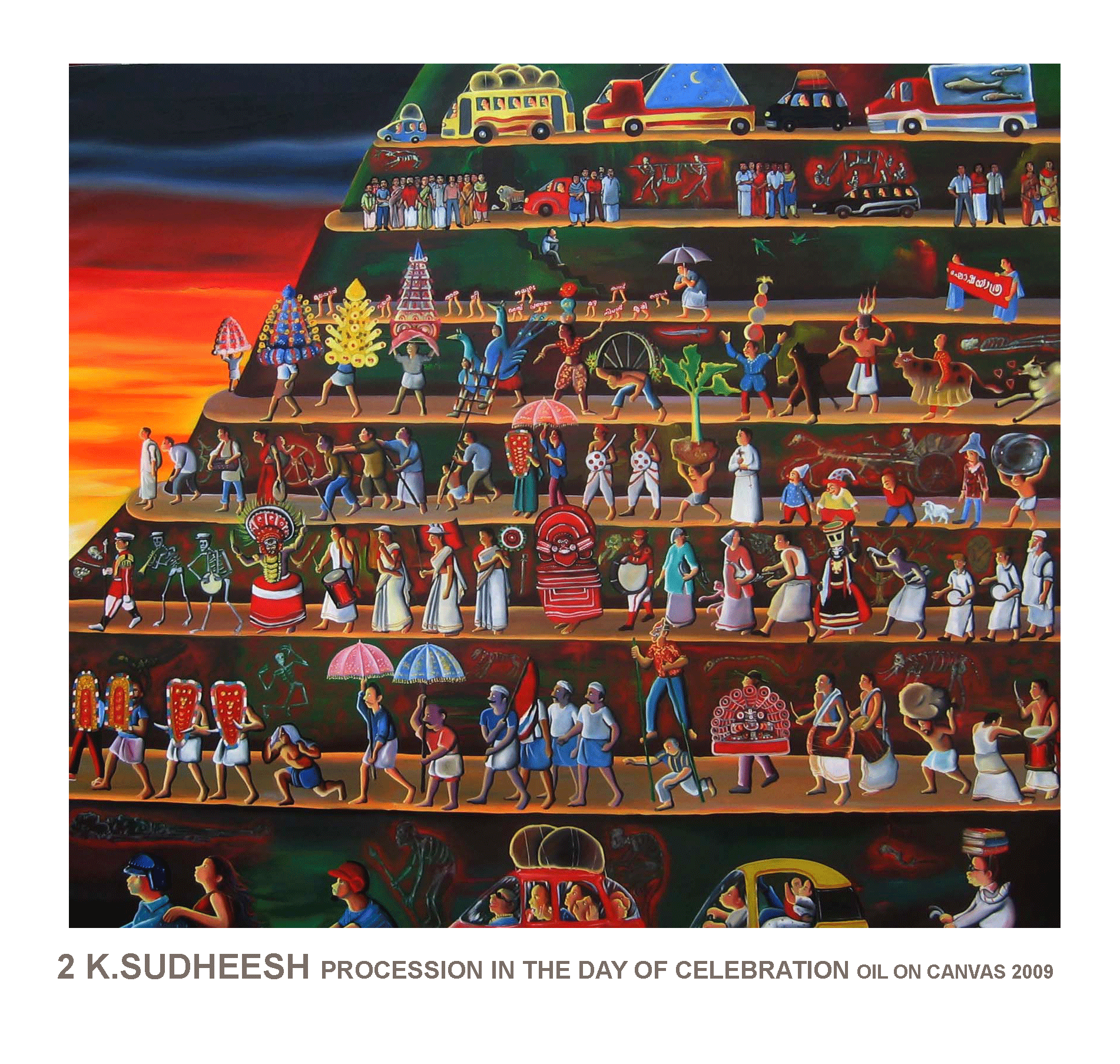 I joined Universal Arts, Calicut to learn arts after my schooling. After two years of a diploma course I joined an advertising firm. I worked for two years, painting hoardings. Later on in 1989-90 I joined Government College of Fine Arts, Thrissur and dropped out of the college after four years of studies, without completing my course. While studying at the Thrissur fine arts college, the printouts of the works of great masters were circulated amongst the students regularly. I can still recall the paintings and works of Bruegel, George Grosz etc. I witnessed the exhibition conducted by the Radical Painters and Sculptors Association of India at Kozhikode, who introduced Marxian Aesthetics in Indian visual arts. They created a strong influence at the Thrissur Fine Arts College. I also admire the artistic expression and methods of figurative form of paintings put forward by them.
Due to the strike that lasted one and half years at the Thrissur Fine Arts College, myself along with twenty other students were locked up in the Viyyur Central Jail for three long days. The strike was for the betterment of the facilities and to convert the five year diploma course to a valid degree course. This strike and the incidents surrounding it has influenced my views on art to a large extent. For a short period of time I did graphic woodcut printing in the Madras Regional center, Kendralalith Kala Academy.
When I returned home I took part in group exhibitions and conducted several Art Camps. Along with that I actively got involved in presenting slideshows of great masters to the villagers of remote areas. i accidently had the opportunity to take part in the State Artist Camp conducted by Kerala Lalitha Kala Academy . The renowned artist Ajay Kumar was at that time the secretary of the academy who promoted most of the young artists including me.The avant-garde artist during this time, K Prbhakaran and Raghunathan K as inspired my perspectives on art.
A few friends of mine like C Bhagyanathan, Rajan M Krishnan, Zakeer Hussain , N V Santhan , V N Ajit all of whom I met during the course of different art camps I attended along with them Premji T P and Sidharthan who were a seniors at my college deeply influenced my artistic career. At home, my mother Vasantha encouraged the artist in me during this phase of my life.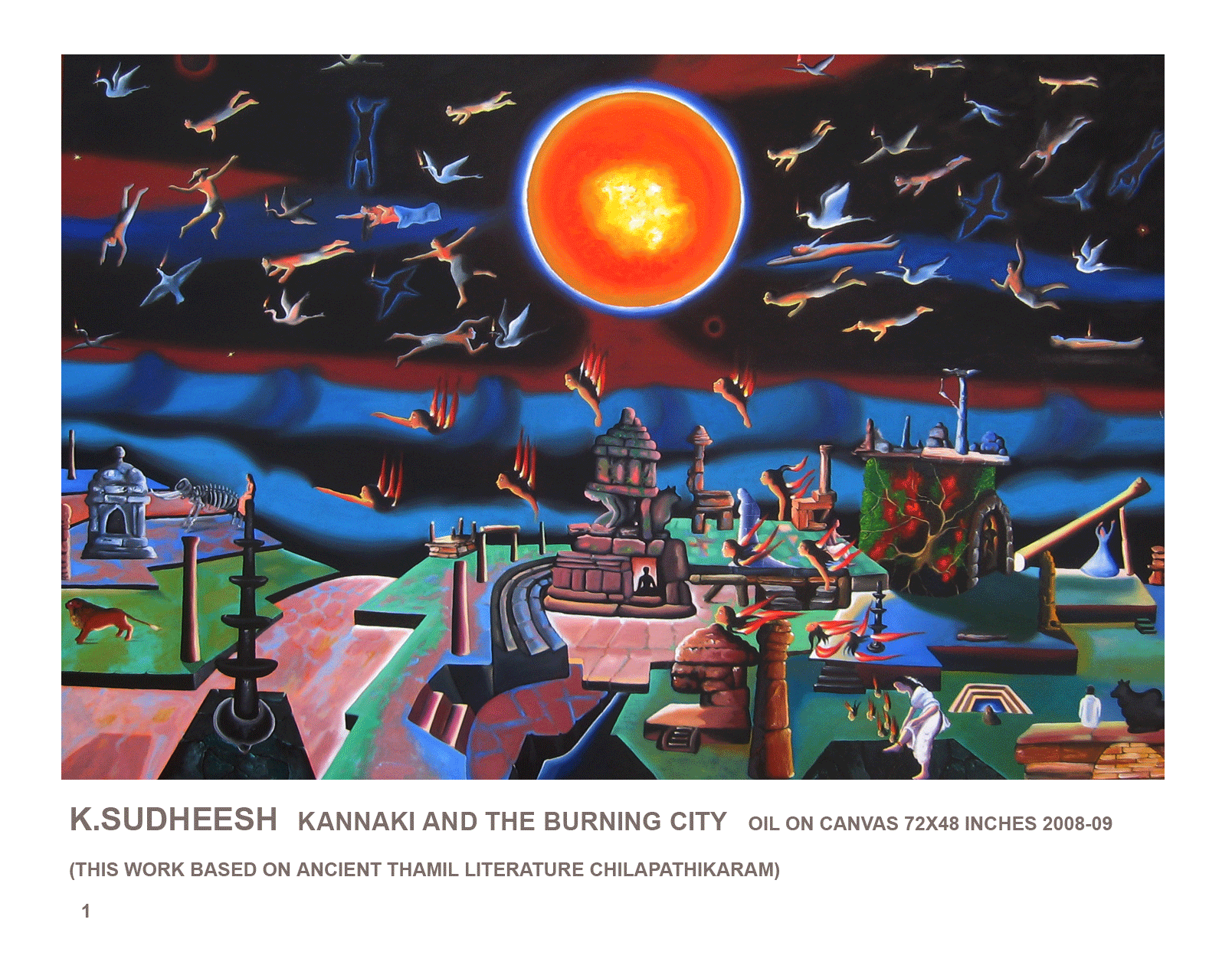 About Making Art
I remember drawing at the age of three. During those days I used to collect remains of bones from the ancestral cemetery which were similar to bits of chalk pieces, fragments of red brick's, leaves etc to draw on huge rocks and walls. As I grew older, I remember sketching a monk's figure repeatedly. Drawing human figure fascinated me during those days. Later on, even during my college days I mostly explored human figures in my paintings. Nature as well became an important aspect in my works. Most of all birds, greenery etc. which are seen in abundance in my native place along with the usual hues of our locality is all visible in my paintings.
Right from my childhood day's stories, reading and music were inevitable aspects of my life. This influence can be strongly seen in my works. The colour arrangements seen in the religious rituals like Theyyam, kalamezhuthu etc influenced me while composing the colour combinations in my works to a very large extent.
The influence of poems and stories are strongly evident in my imageries and thus you can notice a new form of realism which is slightly similar to surrealism in my paintings. My works contain the repeated drawing of birds, trees and shrubs seen in my locality regularly. 'Earth' is one of the major themes explored in most of my works. Men and their actions are portrayed as a part of the earth in my works. A narrative technique is followed in my paintings. It is not just about conveying a lot of notions on one go, rather it is an attempt to express ideas in a sequential order.
I have been creating my works for the past so many years as visions seen in a secluded imaginary island called "ISLAND CHERALA". Cherala was another name of Kerala during the past. The evolution and changes brought about on the earth and the living beings due to urbanization are the major subjects of my paintings. The native inhabitants who are forced to move out of their homelands, the living beings on the verge of extinction, the local life of the folks and the popular myths surrounding my village have all ended up being the subject of my works.
Creating a painting is an endless process according to my belief, and so after completing a painting it should be open for criticism, and so I believe that, those works which are yet to be created will be my personal favorite works of mine rather than the ones that are complete.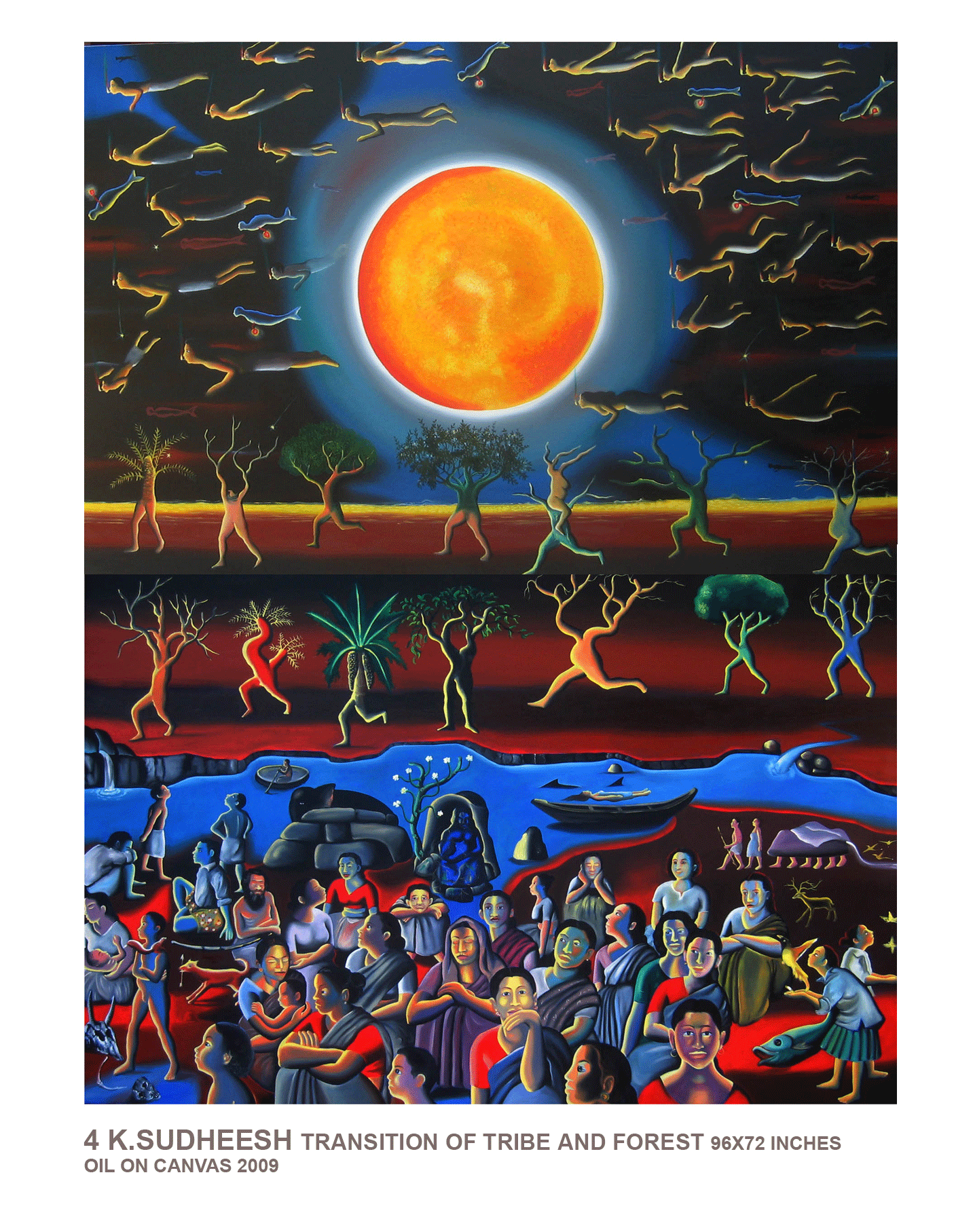 About Your Artistic Process
I take long breaks between the artistic creations of mine, and it is during these breaks that I get involved in other kind of works.
Only after working on a particular subject for a long time in my mind do I apply in onto the canvas. But once I start working on the canvas I generally tend to finish it soon. Acrylic ,oil ,charcoal and watercolor are the usual medium I use for painting, while in sculpting the medium I use is terracotta, cement , waste materials etc.
While working I have a habit of playing music aloud (Indian Classical music, Hindustani ,Western Classical ,pop , country music etc )
I can say that each work of mine gets complete only when my next work begins.i observe painting as a continuous process of growth just like a sapling that sprouts and grows.
About Working as an Artist
The very first time my work got sold, was during my second year in my fine arts college.It is very difficult to live in kerala as a professional artist, I have also gone through the same difficulty, but I have also done many other jobs for survival like being a commercial artist, an interior designer,a magazine illustrator, a furniture designer, screen printing, a school teacher, bookseller, a house painter etc are a few among them. Even though I have worked at different firms, the profits from my artistic creations are the sole purpose of the changes that has happened in my life. Most of my works have been sold out.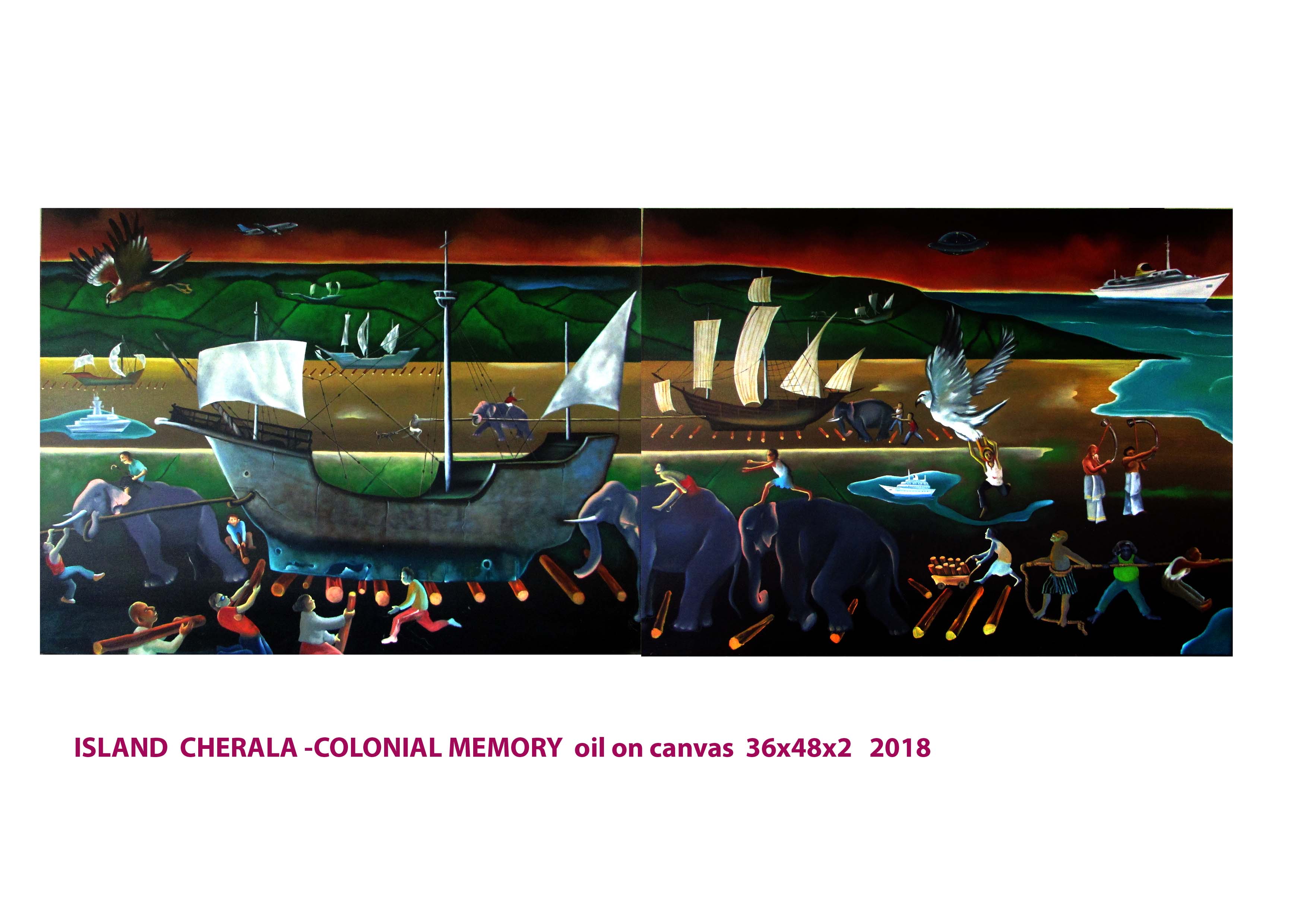 About the Future
I have been active in the agricultural field for the past two years. I do farming at home and also at Sadbhavana World School where I work as an Art teacher. This has given me stronger direction for the visions in my artistic endeavors. This even influenced the process of creation of my work. My only dream for future is to weave a tapestry of my philosophy, life, notions and art together which stays interconnected.
My prospective plans are to mark the indestructible bond between men and nature. For this I not only use illustrations but also sculptures and installations. The agricultural life led by the Dalit community farmers of my locality has also influenced and inspired my work.( The life of these farmers, like soil, has influenced to form the base of my artistic creations. )
Even though, being a realistic painter I use and represent three-dimension, gravity and perspective in a very diverse manner. There is a long term struggle behind these experimental techniques. My only aspiration is to direct a life where I can lead a life in union with art.
About Inspiration
More than painting as an art form, Nature inspires me. The thoughts about nature triggered even the greatest artists like Hieronymus Bosch, Van Gogh, Bruegel etc for their works. The Mural art (Ajantha etc) and the narrative technique used in the Mugal paintings of Indian influenced my painting largely.
Presently I observe and learn more about colours and figures from nature herself. I make it a point to lead my life in such a way that I am close to nature.I am attaching a few photographs I took from my locality along with this interview.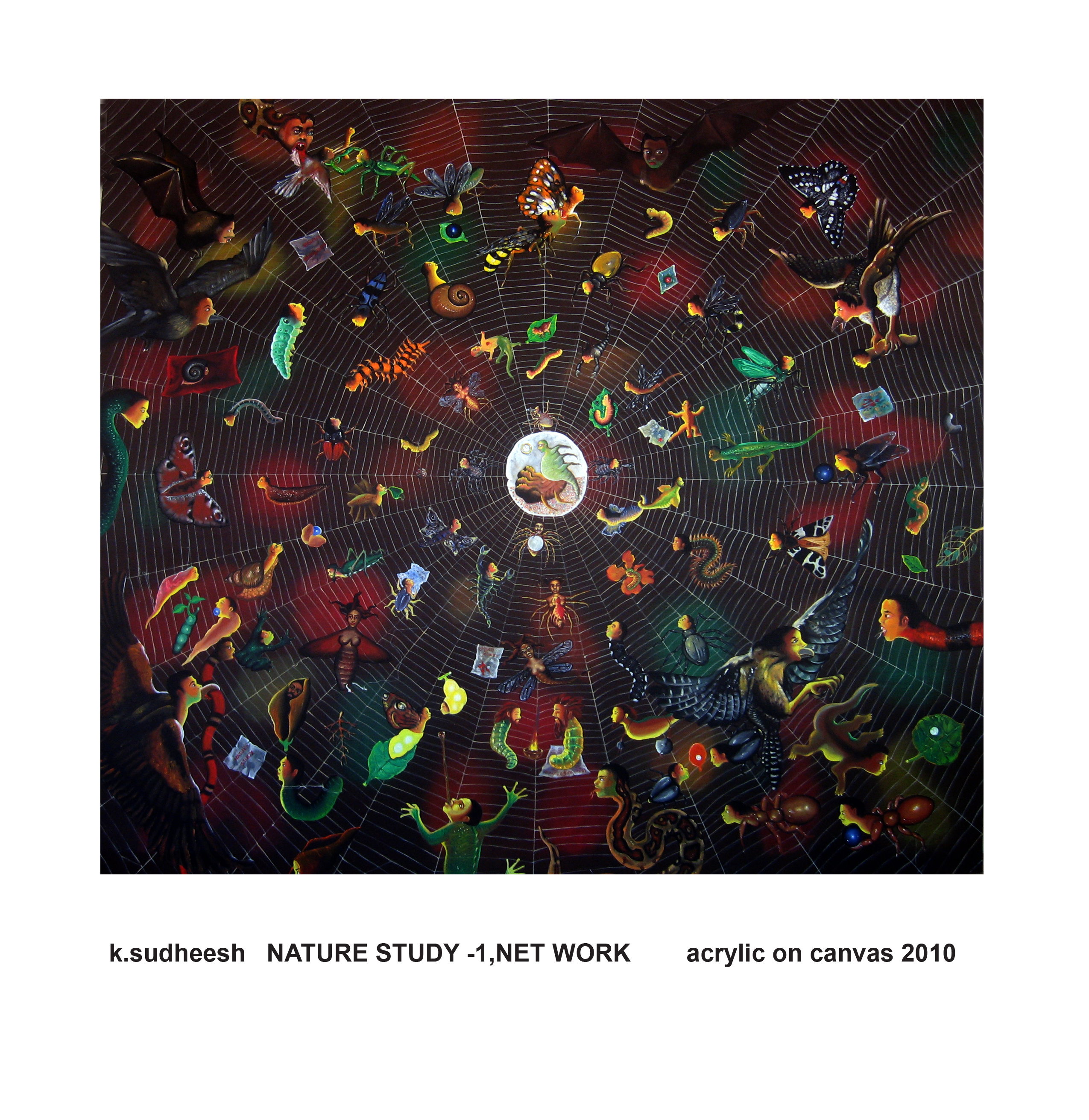 About Creativity
During my younger years I had the opportunity to relish life in a rural area, I used to freely climb trees, fishing was also an often practice,swimming and playing football was a usual childhood sport. I used to observe paddy cultivation and its different stages closely and keenly. I used to play in mud quite often and thus could notice the slight variations that occurred during each changing season. This rustic country life itself is my sole creative source , and also the vast reading which became a habit during my teenage years .Most of the world literary works (translations) were read in my mother tongue during my early ages. This vast reading intensely influenced the creating of my imageries. The present agricultural endeavor that I focus on, also has a lot of contributing factors to my creativity. I try to observe and understand the world outside from the perspective of a person from the little greenery of a small village.
In spite of me being an anonymous person from a small corner of this big planet which is a part of an enormous universe trying to converse my notions to the entire world through my paintings seems wonderfully creative on its own, and it is a pleasure doing it.